No One Noticed the Cat, by Anne McCaffrey
Book Review by Phillip A. Ellis
In No One Noticed the Cat, and with the death of his regent, Mangan Tighe, Prince Jamas must not only come into his inheritence, the principality of Esphania, but also deal with the attention of the rulers of the neighbouring kingdom. If he is to marry and to rule his land safely, he must negotiate a difficult course, aided by his friends and advisors, including the unique legacy of Mangan, the cat Niffy. How he was to do so comprises the story of this slim book.

Ms McCaffrey is, of course, best known for her Pern series. Although her dragons there are not fantasy, and although the vast majority of her works are science fiction, No One Noticed the Cat is a rare example of her abilities in the genre of fantasy. The plot is basic, befitting the brevity of this work, but it contains a number of charming characters, especially the title character, Niffy. She seems a real cat, a living creature, and this is testament both to Ms McCaffrey's abilities as a writer and as an observer (and lover) of animals.

There is, also, as in many of her works, an element of romance. Like elsewhere, it is dealt with tactfully, with scant details that would mar or jar the smoothness of the narrative. The romantic interest, too, is sympathetically drawn. She is not as stereotypical a woman as others that Ms McCaffrey has written, and there are some faint echoes of her early heroines in her refusal to adhere to these same stereotypes.

No One Noticed the Cat is not perfect, however. At just over 140 pages in length, it is both short enough to be read in a single sitting and, as a result, easily leaving the reader to desire more. With more incident, maybe fuller characterisation, No One Noticed the Cat might easily have been made into a thicker book, that would have provided a fuller, more enchanting read. This is not to say that it is not enchanting: it is, but only for a short while, then the book is over and the mundane world intrudes again.

No One Noticed the Cat is worth obtaining. it is a pleasurable little book, and it can occupy a dreary afternoon. It is not a book just for the McCaffrey devotee, and it illustrates that there are other aspects of high fantasy than the pseudo-Tolkinesque.
Click here to buy No One Noticed the Cat, by Anne McCaffrey on Amazon
No One Noticed the Cat, by Anne McCaffrey on Amazon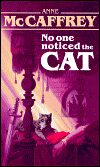 More Books You Might Like
Comment on No One Noticed the Cat, by Anne McCaffrey
Comments on No One Noticed the Cat, by Anne McCaffrey
There are no comments on this book.