Once Bitten, Twice Shy, by Jennifer Rardin
Book Review by Jennifer Hairfield
Step aside Kim Harrison, move over Laurel K. Hamilton and Patricia Briggs here's an author that has a new no holds bar strong lead female character, Jasmine Parks. She works for the CIA as one of their top assassins. But with her being a loose cannon she's now partnered up with a vampire names Vayl who was born in Romania in 1744. He keeps her from flying off the handle but also uses her unique ability to always survive and with her being a Sensitive it's icing on the cake. Together they make one powerful team that will get the job done at all costs.

On a routine mission Jasmine and Vayl need to take out a very evil man, Assan, who helps criminals by doing plastic surgery on them. But on the night of the deed they find out there's more than just the surgery he's into. With help from a P.I. names Cole, the CIA's technology geek, Bergman, and a Seer named Cassandra they all go after Assan and his group of evil doers and try to stop them form raising an evil creature that will destroy the world.

Jennifer Rardin has done a terrific job in creating an action-packed vampire novel. Even though vampires have been done over and over again she has truly embraced it as her own. Personally, I love a great strong female character that refuses to be pushed around or told what to do. The character Jasmine Parks is very strong but the inner dialogue she has throughout the novel and the love she has for friends and family gives her just enough humanity to be human and female. Bergman has to be one of my favorite characters with his overly paranoid self. Everyone knows this person in life in some form or fashion. Plus, the technological equipment he comes up with for Jasmine and Vayl are extraordinary like the transmitters that look like real tattoos and can transmit for two miles.

The author also does a good job at description, especially in the fight scenes. She has given the reader just enough details that they can picture it but not get bogged down. I also liked the significance of Vayl's ring that he gives to Jasmine as his protector. The idea of it and its history is a wonderful touch.

I can't wait for book two, "Another One Bites the Dust", to come out in December. Once I started this first book, I couldn't put it down because this it was too much fun to stop. Have fun with this new series and wonderfully constructed characters and plot.
Click here to buy Once Bitten, Twice Shy, by Jennifer Rardin on Amazon
Once Bitten, Twice Shy, by Jennifer Rardin on Amazon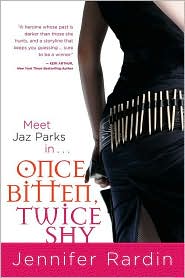 More Books You Might Like
Comment on Once Bitten, Twice Shy, by Jennifer Rardin
Comments on Once Bitten, Twice Shy, by Jennifer Rardin
There are no comments on this book.