Red Seas Under Red Skies, by Scott Lynch
Book Review by Paul Weiss
The swashbuckling con games and escapades continue!

Locke Lamora and Jean Tannen, the two badly beaten and shocked, weary remnants of The Gentlemen Bastards, continue their picaresque fantastical escapades in fine form!

After a somewhat hollow victory at the conclusion of The Lies of Locke Lamora in the light of their continuing difficulties at the hands of the cruelly vindictive Bonds Magi, a battered Locke and Jean take refuge on the shores of Val Terrar. With their strength and wits at long last recovered, they plan the biggest con game of all, the heist of the contents of the vault of the Sinspire, a casino known for its ruthless treatment of cheats, frauds and card sharps with a security system renowned for being absolutely impregnable!

But their plans for this grandiose, spectacular theft are interrupted by a scoundrel playing his own style of political con game. Tricked into drinking a slow-acting poison, Jean and Locke are forced into assuming the role of sea-faring, plundering pirates. They will be given the antidote to the poison only if they can create a panic among Val Terrar's legitimate marine businesses.

Dialogue? Spectacular, especially the high speed, clever banter between Locke and Jean that, as other reviewers have noted, will remind readers of the hilarious give and take between Robert Redford and Paul Newman in The Sting and Butch Cassidy and the Sundance Kid. Lynch's versions of medieval profanity are particularly creative.

Atmosphere and setting? Incredible! Sights, sounds, smells, colors, weather, buildings, flowers, temperature ... it seems like no detail is too small for Lynch to consider adding to the world that he has created. Readers will have no difficulty whatsoever creating a mental picture of what's happening!

Plot? Superb. Readers will take utter delight in the clever quick paced twists, turns and intersections of two major plot lines running concurrently and will also enjoy a couple of rather interesting sub-plots as well.

Characterization? God forbid anything should ever happen to Locke or Jean or their obvious love for one another! Lynch has turned them into such completely built entities that one can't help but cheer wildly for their success.

Highly recommended? You bet ... with the added comment that I'll be waiting rather impatiently for the much anticipated third installment in the story.

Click here to buy Red Seas Under Red Skies, by Scott Lynch on Amazon
Red Seas Under Red Skies, by Scott Lynch on Amazon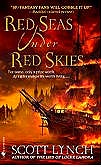 More Books You Might Like
Comment on Red Seas Under Red Skies, by Scott Lynch
Comments on Red Seas Under Red Skies, by Scott Lynch
There are no comments on this book.