Robopocalypse, by Daniel H. Wilson
Book Review by Jaqhama
Wow.

What a non-stop sci-fi thrill ride this novel was.

Read it in two days.

Couldn't help myself, the tension builds and builds.

You've just got to keep reading to find out what happens next.

Narrated at times by various different characters, but mainly by Cormac 'Bright Boy' Wallace, a battle hardened combat veteran of the New War.

All over the world isolated incidents become more commonplace. Everyday household machinery and vehicles start to take on a life of their own. Slowly at first, then in the blink of an eye... the machines are taking over... and there's damn little anyone can do to stop them.

The cities shut down. The highways are death traps. Millions are exterminated. Hundreds of thousands more flee to the countryside, where the majority are ill prepared to survive the rigors of life in the wilderness.

In small groups and communities the survivors begin to band together, but their enemy is infinitely cunning and ever imaginative, it wants nothing less than the total eradication of the human species.

Zero Hour has been and gone, the New War has begun, but flesh and bone is a puny thing to pit against an intelligent army made of iron and steel.

I'm not going to say anything more, as I don't want to give the story away.

Suffice to say that Robopocalypse is a fast paced tale that never drags.

Daniel H. Wilson has struck gold with his first fiction thriller and I hope we see more books from him in the future.

Highly recommended.
Click here to buy Robopocalypse, by Daniel H. Wilson on Amazon
Robopocalypse, by Daniel H. Wilson on Amazon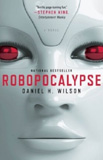 More Books You Might Like
Comment on Robopocalypse, by Daniel H. Wilson
Comments on Robopocalypse, by Daniel H. Wilson
There are no comments on this book.