Rogue Angel: Destiny, by Alex Archer
Book Review by Benjamin Boulden
Annja Creed is an archaeologist and television personality on the cable television series "Chasing History's Monsters." She is beautiful, talented and damn near everything the television audience wants--unfortunately her stubborn search for truth, rather than sensation, keeps her producer on his toes. Rogue Angel: Destiny is the first in a new series written by Alex Archer, and if beginnings mean anything, this series is going to be something special.

The novel opens with Annja in rural France searching for the legendary Beast of Gevaudan--a werewolf-like creature reputed to have killed nearly one hundred people in the three-year period between 1764 and 1767--when she stumbles across an ancient charm that is more than it seems. She is immediately embroiled in an escalating battle between an ancient sect of monks, and an occultist profiteer who will do anything to get the charm. Annja is cast in a web of intrigue, mysticism, and history, that promises to do more than pique her intellectual curiosity; it very well may be her end.

Rogue Angel: Destiny is billed as science fiction, but that is a misrepresentation. It is all adventure with a dash of light fantasy. The plot moves along quickly and is kept interesting with a complex storyline. The action scenes are sharp and brutal--Annja is able to take on multiple foes and dispatch with them ease. In the end, Annja Creed is the story. She is immediately likable with her calm intelligence, competence and grace under pressure. She is a superhero who will be liked by both men and women. In a word, she is cool. If you enjoy a good thriller, a rerun of "Buffy the Vampire Slayer," or a breezy and quick read, Rogue Angel: Destiny is your ticket.
Click here to buy Rogue Angel: Destiny, by Alex Archer on Amazon
Rogue Angel: Destiny, by Alex Archer on Amazon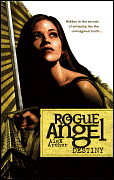 More Books You Might Like
Comment on Rogue Angel: Destiny, by Alex Archer
Comments on Rogue Angel: Destiny, by Alex Archer
There are no comments on this book.