Season of Rot, by Eric S. Brown
Book Review by Michael D. Griffiths
This was the second of Mr. Brown's books that I've had the pressure of reading. Eric Brown is quickly becoming known as the King of Zombies and now has a full 17 books published, which focus primarily on the subject of mankind's doom being brought about by a zombie driven apocalypse.

Unlike many authors that attempt to give every story a heroic and happy ending, Eric has no such qualms. Personally, I think the man is secretly rooting for the undead most of the time. But let's just say if it ever comes to me having to live through a zombie apocalypse, I sure hope Mr. Brown isn't my God.

The book itself consists of five well thought out and very different novellas. The one thing they all do have in common is their genre breaking styles. Yep, sure they all have zombies, but none of these are your standard moaning zombie fair. Each story has a unique and original twist. In all cases Eric takes what is already a horrible situations for the survivors and makes it much much worse.

The novellas twists range from technological to supernatural, but always keep the reader guessing. Unlike many books out there, if you can figure out how the story is going to end or what is really happening, then you either have psychic abilities yourself, or you are Eric Brown. I would strongly recommend this book to all zombie lovers and any horror loving that would like to try this sub-genre.
Click here to buy Season of Rot, by Eric S. Brown on Amazon
Season of Rot, by Eric S. Brown on Amazon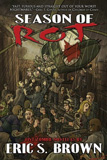 More Books You Might Like
Comment on Season of Rot, by Eric S. Brown
Comments on Season of Rot, by Eric S. Brown
There are no comments on this book.