Stagestruck Vampires & Other Phantasms, by Suzy Mckee Charnas
Book Review by Jeff Edwards
Stagestruck Vampires and Other Phantasms is an eclectic retrospective featuring a sampling of Suzy McKee Charnas' short fiction from the past quarter-century, along with two original essays.

As the book's title suggests, bloodsuckers dominate the collection. "Stagestruck Vampires," an essay, details Charnas' naive decision to adapt her own work to the stage. Readers will walk away with a greater understanding of play production, from penning the first words of a script to the final curtain call, and will applaud the author's zest for the entire experience. The anthology also includes "Unicorn Tapestry," the novella upon which Charnas based her play "Vampire Dreams." In the tale, a psychotherapist named Floria agrees to treat Dr. Edward Weyland, a man suffering from the apparent delusion that he is a vampire - but the therapist soon believes that Weyland is exactly what he claims to be. With her own life spiraling out of control, Floria finds herself inspired by her patient's singularity of purpose.

Not all of the vampire stories deserve a standing ovation. In "A Musical Interlude," a powerful opera performance whips Weyland into a frenzy until he is compelled to hunt. Charnas alternates between scenes from "Tosca" and Weyland's growing agitation, but the marriage seems forced. "Advocates" is an awkward collaboration with Chelsea Quinn Yarbro. Originally part of a shared-world anthology, the story feels out of place here: Reading it is like walking into the middle of someone else's conversation.

Charnas fares best when she embraces the role of feminist author. Her essay, "They're Right, Art is Long," describes her trial-and-error process of writing a first novel, and how she discovers her book's underlying story - and her own predilection for feminism - along the way. That female perspective takes center stage in "Beauty and the Opera or the Phantom Beast," the "truth" behind Gaston Leroux's novel, "The Phantom of the Opera." In Charnas' hands, an atypical "damsel in distress" turns her voluntary imprisonment into a learning experience, gaining a sense of identity often denied women in a patriarchal society. "Boobs" is another story of female empowerment: A girl reaching puberty also discovers her latent lycanthropic tendencies - and changing into a werewolf offers a dramatic solution to a particularly obnoxious boy at school.

Although "Evil Thoughts" is something of a throwaway tale in the vein of Oscar Wilde's "The Picture of Dorian Gray," the final two stories in the collection are far more successful. In "Peregrines," a Tarot card reader won't allow herself to believe that she's in the presence of a young shaman - despite evidence she has seen with her own eyes. Within the story, Charnas includes subtle references to the insidious Homesec agency to create a fearful vision of the near future. "Listening to Brahms" is a poignant tale of a future even farther away: When the Earth is destroyed, astronauts in suspended animation become the last humans in existence. They have little choice but to live as honored guests on a planet populated by a race of lizards - and a concert of "human" music performed by the lizards will either prove to be the narrator's breaking point, or the catharsis that he needs in order to move on. Far from a reptilian imitation of Pierre Boulle's "Planet of the Apes," Charnas' story is a meditation on humanity, heritage and cultural assimilation.

Reading Stagestruck Vampires and Other Phantasms is like attending a wine tasting: Each vintage may not please everyone's palate, but the event as a whole is more than satisfying. Suzy McKee Charnas' fans - and readers new to her work - should not pass up the invitation.
Click here to buy Stagestruck Vampires & Other Phantasms, by Suzy Mckee Charnas on Amazon
Stagestruck Vampires & Other Phantasms, by Suzy Mckee Charnas on Amazon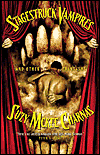 More Books You Might Like
Comment on Stagestruck Vampires & Other Phantasms, by Suzy Mckee Charnas
Comments on Stagestruck Vampires & Other Phantasms, by Suzy Mckee Charnas
There are no comments on this book.