Star Trek: Engines of Destiny, by Gene DeWeese
Book Review by Lynn Nicole Louis
Engines of Destiny never quite came together for me; I was never quite able to get a grasp on what was going on. I don't think it's a result of the story being too Trek-specific; it was more of a lack of cohesiveness to bind everything together, maybe a bit too much character jumping, or maybe too much cross time travel alternate universe deja-vu. In any case, I mildly enjoyed it, but it never really captured me and insisted to be read, the way a good story should.

Montgomery Scotty, Scotty to those of us who remember him from the original Star Trek series, finds himself 75 years in the future, where he hatches an audacious plan: to go back in time to the moment before James Kirk sacrificed himself, a sacrifice for which Scotty feels responsible. Scotty figures if he can rescue Kirk at the moment right before his death, then he can bring Kirk to the future without affecting the timeline.

Of course the plan goes awry and Scotty, Kirk, and the Enterprise D, captained by Picard and crew, find themselves struggling to figure out what went wrong and how to fix it. It seems that Scotty's rescue mission resulted in the Borg pretty much being in control of that area of space, and not in the future, but in the past, the supposedly immutable past that shouldn't have been changed at all. Mixed up in this is Guinan, (the Whoopie Goldbery character) who feels it was something she said 75 years earlier that set Scotty on this path.

What was it she said? Dunno. What was it that changed the past, as past that shouldn't have been affected by Kirk's rescue? Dunno. How can an event in the present change the past? Or an event in the future? Dunno. That was pretty much my state of mind throughout the whole story. Hey Lynn, what's going on? Dunno....

On a micro level, it worked. The isolated challenges faced by the characters were interesting, and the characters true to their TV incarnations. But when I tried to wrap my mind around the whole thing, it just didn't come together for me. The best stories are those that have real characters at their core, the draw the reader in and invest them. Maybe DeWeese relied a bit too much on the prefabricated personas. It all felt thin and thrown together to me, without quite enough glue to make it all stick.

Devoted Trekie fans will want to read it, of course, and the casual fan who perhaps has an interest in the Borg, or wants to read as story that brings both generations of Trek together. Science fiction fans in general probably will probably lose interest pretty quickly.
Click here to buy Star Trek: Engines of Destiny, by Gene DeWeese on Amazon
Star Trek: Engines of Destiny, by Gene DeWeese on Amazon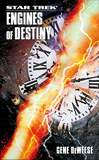 More Books You Might Like
Comment on Star Trek: Engines of Destiny, by Gene DeWeese
Comments on Star Trek: Engines of Destiny, by Gene DeWeese
Posted by Jeff Edwards on 4/27/2005
Thanks for beating me to this book, Lynn. I had been planning to request this from the review list, but it sounds like I would have been disappointed in the story. Your comments on the writing are in line with other reader comments that I've seen online.