Stargazer: Enigma, by Michael Jan Friedman
Book Review by Jeff Edwards
A mysterious alien race is attacking Starfleet ships, and the Federation firepower proves worthless: The intruders already know everything about Constellation-class tactical systems. As Starfleet gathers its forces, Captain Picard worries that one of his own crew members may be to blame for the aliens' unfair advantage. But there's more than just Picard's career at stake, and the fate of the Federation soon rests in the hands of one of the young captain's greatest adversaries.

After stalling out in "Oblivion," Michael Jan Friedman kicks his Stargazer series into warp drive with Enigma. In the previous book, Ulelo was secretly transmitting information to an unknown party; here, the com officer is caught red-handed and thrown in the brig. And while McAteer did nothing more than seethe with hatred for Picard in "Oblivion," the admiral schedules a competency hearing for the young captain in Enigma, then takes part in a dangerous mission to defuse the situation between Starfleet and the alien aggressors.

Friedman doesn't tie up all of the loose ends, though, leaving him with material for future novels: Ensigns Paris and Jiterica continue their interspecies romance; Nikolas resigns from Starfleet and starts a new job on the cargo hauler Iktoj'ni. Acknowledging the multiple storylines, Friedman inserts helpful plot reminders for his readers throughout the book ("He sat up..., wondering what had happened...Then it all came back to him").

In the novel, a character notes the "stolid, reassuring familiarity" of sickbay. This also serves as an accurate description of Michael Jan Friedman's prose: It's workman-like but not fancy, moving the story efficiently from point A to point B; Friedman's most creative writing is on display when Ulelo struggles with his sanity, recalling striking images of alien landscapes that remain "just beyond the pall of his conscious mind."

Science fiction connoisseurs probably won't be impressed with Enigma: part of an ongoing space opera, the novel relies on implausible plot devices rather than scientific extrapolations to keep the story moving. Even casual Star Trek fans may find this to be passable entertainment at best. But Stargazer devotees - those who keep coming back for more of Jean-Luc Picard's early adventures - will be rewarded by Enigma: It's among the best in the series.
Click here to buy Stargazer: Enigma, by Michael Jan Friedman on Amazon
Stargazer: Enigma, by Michael Jan Friedman on Amazon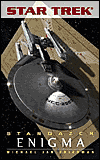 More Books You Might Like
Comment on Stargazer: Enigma, by Michael Jan Friedman
Comments on Stargazer: Enigma, by Michael Jan Friedman
There are no comments on this book.