Stargazer: Oblivion, by Michael Jan Friedman
Book Review by Jeff Edwards
Captain Picard travels to the orbital city of Oblivion on an undercover assignment for the Federation. But when a bomb explodes at his rendezvous point, and Picard is escorted to Oblivion's detention facility, it will take all of the starship captain's cunning - and help from a mysterious woman named Guinan - to salvage the mission.

In Oblivion, Michael Jan Friedman recounts another one of Jean-Luc Picard's early Stargazer adventures. Because the book's main plot is a rather repetitive game of cat-and-mouse, with Picard trying to avoid Oblivion's security force and a group of Cardassians, Friedman juggles a few other storylines in the background for variety: a lovesick ensign picks a fight with a higher-ranking shipmate, another ensign contemplates an interspecies romance with a mist-like being, and the new communications officer covertly transmits information to unidentified comrades. Realizing that readers might need a slight nudge to remember what is going on in each story, the author periodically provides quick summaries ("Picard woke with a start, not knowing where he was. Then, gradually, it came back to him...").

Guinan gets almost as much "screen time" in the novel as Picard, and Friedman does his best to explain the complicated relationship between the two: Guinan first met Picard in San Francisco at the end of the nineteenth century, but Picard doesn't take that trip back in time until he is captain of the Enterprise, and so he fails to recognize Guinan when he encounters her on Oblivion. The author sees the humor in the situation: Guinan's first words to Picard in the book are, "You've got hair." And after Picard has to shave off his "healthy head of brown hair" as part of a disguise, Guinan tells him, "It's a good look for you."

On his acknowledgements page, Michael Jan Friedman writes, "Oblivion is a state of forgetfulness." Unfortunately, that's also a fitting way to describe the experience of reading Friedman's novel. Although it is passable entertainment with some interesting character development, the story seems to lack true substance. After reaching the final page of Oblivion, Star Trek fans may feel themselves slipping into their own "state of forgetfulness" as they seek out another book to fill the void.
Click here to buy Stargazer: Oblivion, by Michael Jan Friedman on Amazon
Stargazer: Oblivion, by Michael Jan Friedman on Amazon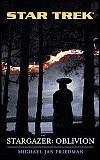 More Books You Might Like
Comment on Stargazer: Oblivion, by Michael Jan Friedman
Comments on Stargazer: Oblivion, by Michael Jan Friedman
There are no comments on this book.