String Theory: Evolution, by Heather Jarman
Book Review by Heather Hunt
"Evolution" by Heather Jarman completes the 10th anniversary Star Trek Voyager tribute trilogy called "String Theory." This concluding chapter is on par with the first two episodes and a fitting finale to an epic adventure.

Jarman is a terrific writer, who handles science topics and characterization with equal skill. She also plots well, which is imperative in such a busy tale, which features three ongoing storylines:

* The Doctor (the cover character) and his time and space journey (in a real body!) to Ocampa before its fall

* Tom Paris and Harry Kim and their exploits with Q and new character, q

* Chakotay and the Voyager crew and their attempts to rescue the doctor, revive Captain Janeway, and escape Monorhan space

Clearly there's enough going on to accommodate the novel's 400 pages with no need for padding.

Jarman's plain-English descriptions of String Theory and the music of the strings in composing and sustaining the universe remind me of Madeleine L'Engle's Time Quartet and other young adult novels. Very good stuff and a high compliment from me, considering how high L'Engle is on my Favorite Authors list.

The grand theme of free will versus fate is eloquently stated early on: "How choice and chance interplay is what determines destiny." However, by the end of the novel, readers may feel a bit "hit over the head" with the repetitive dialogue on the subject, particularly between Harry and Q.

For a Pocket tie-in novel, "Evolution" is remarkably free from typos and other errors although there is still the discrepancy seen in the earlier novels in the spelling of "Monorhan" versus "Monoharan" space. The author (or editor) also uses the term "omnipotent" incorrectly when they describe QU, or Q University, as being unnecessary because the Q were omnipotent. Omnipotent means "all powerful." I believe the correct term in this case would be "omniscient" for "all-knowing."

I am also a bit disappointed at how Captain Janeway's story turns out. These quibbles prevent me from giving "Evolution" a super-high rating, but as a 10th anniversary tribute, the three String Theory authors are to be commended for giving all the characters (including Kes, especially in "Evolution") a wonderful new adventure and added growth. A true celebration of a great show.
Click here to buy String Theory: Evolution, by Heather Jarman on Amazon
String Theory: Evolution, by Heather Jarman on Amazon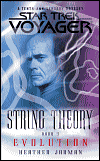 More Books You Might Like
Comment on String Theory: Evolution, by Heather Jarman
Comments on String Theory: Evolution, by Heather Jarman
There are no comments on this book.