TIM: Defender of the Earth, by Sam Enthoven
Book Review by Adam P. Knave
Sometimes in life you need a giant monster story. I mean, I know I do. Giant monsters are cool. They're fun and can be very exciting. T.I.M. (Tyrannosaur, Improved Model) is, well, he's what it says on the tin. And that's the entire point.

Is this book deep? Nope, not really. It isn't meant to be overly deep. It has a point and a structure and all, but really this is a simple fun ride for all ages. And I do mean all ages. TIM is a YA book, but it is also perfectly fun for adults.

Enthoven builds his story in England and uses the two kids Chris and Anna to bring everything to normal life. At first. Anna's father is a great scientist and Chris ends up ... being more important that he wants.

It's in Anna's father, who is doing nanotech research (what is it with the evils of nanotech these days, sheesh) who becomes the villain of the piece. It's an interesting slide, if fairly predictable. Still, Enthoven plays it PulpSF straight, the man is not evil, he is misguided and we all know that slowly people go insane with power. So he uses the shorthand to good effect. And if it seems a bit tired and old, adding nothing new to the pantheon of stories like it to me, then it does, but I bet it doesn't seem old and tired to the kids who will see it here for the first time and gasp and smile along with the story.

Remembering, at times, what audience this book strives for can ease your mind if you are not of the audience. But I will repeat, it is enjoyable by all ages. It is simply more enjoyable by the age group it is meant for. The rest of us? We've seen a lot of these tricks done exactly this way. And that puts me of two minds about the piece. See, do I judge it by what it is or what it is supposed to be?

A bit of both is fair enough, I suppose.

But let's talk giant monsters. TIM is a fun one. Gigantic, all right, and possessing the relative mind of a petulant teenager he makes for a fun character. That was a good job by Enthoven: making the giant monster a full character. Not just some jaws that roar, but someone who fights and wins and loses and creates strategy. That's a bit of magic right there and it can forgive many trespasses.

In terms of technical matters, Enthoven is also quite deft. He can turn a phrase, create a mood and a scene with few brushstrokes and place you where he wants you with ease. He handles his craft well and that makes this an good read for his target age-group, easing them along and also finding ways to challenge them. He also weaves in explanations of things very smoothly, which is a fantastic skill to have as a YA author.

So, all in all, I would have to say that Enthoven manages to do what he sets out to do here, but never quite sets the world on fire. If you have kids, though, pick this one up. Or if, you know, you love Godzilla that much.
Click here to buy TIM: Defender of the Earth, by Sam Enthoven on Amazon
TIM: Defender of the Earth, by Sam Enthoven on Amazon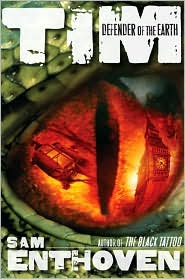 More Books You Might Like
Comment on TIM: Defender of the Earth, by Sam Enthoven
Comments on TIM: Defender of the Earth, by Sam Enthoven
Posted by Rhys on 9/8/2008
This is a great book, anyone who feels like a good, well-thought, structured book, should definantly give this a read, im a computer wiz and i still liked it.
Summed up: It's a GREAT read.