TNG: A Time to Be Born, by John Vornholt
Book Review by Jeff Edwards
In the aftermath of the Dominion War, Captain Picard and the crew of the Enterprise are sent to patrol the Rashanar Sector. The site of a fierce battle which left no survivors, the area is now a vast graveyard of "sundered, scorched warships from a dozen different worlds." Picard's mission: to chase off scavengers while the bodies of the dead are retrieved. The nearly impossible task is further complicated by an unstable gravity sink, a swirling vortex of destruction, and a rumored antimatter asteroid in the vicinity. But there's something even more dangerous haunting the Rashanar Battle Site, and when a mysterious enemy intercepts the Enterprise, one of Starfleet's most decorated ships will be destroyed with all hands on board.

A Time to Be Born is the first book of an ambitious series that promises to reveal the "stunning, untold story" of what happened between the Star Trek movies "Insurrection" and "Nemesis." John Vornholt launches the epic on a somber note: Still recovering from a devastating war, Starfleet is spread too thin and trying to rebuild while the Federation struggles to retain member nations. Vornholt complements the bleak mood with his descriptions of the Rashanar "boneyard": a hellish collection of "disemboweled starships" eerily lit by glowing plasma clouds, rippling energy beams, and bright power spikes.

Early on, Picard is warned not to pursue a reckless course in Rashanar; he's told not to trust his eyes or sensors amid the debris. Yet Picard succumbs to arrogance, believing he'll succeed where others have failed. Instead, events spiral out of control and Picard is relieved of his command, then placed under psychological observation while awaiting a possible court-martial.

A Time to Be Born covers more than just Picard's dramatic fall from grace: Also in the book, Geordi La Forge reluctantly removes Data's emotion chip, Beverly Crusher considers an offer to head up Starfleet Medical, and Wesley Crusher debates whether or not to break the Travelers' strict code of conduct in order to save the Enterprise.

This is storytelling on a grand scale: the kind of writing that sustains Star Trek fans in the absence of new television shows or movies. The adventure continues in John Vornholt's follow-up novel, "A Time to Die."
Click here to buy TNG: A Time to Be Born, by John Vornholt on Amazon
TNG: A Time to Be Born, by John Vornholt on Amazon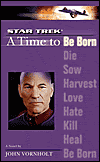 More Books You Might Like
Comment on TNG: A Time to Be Born, by John Vornholt
Comments on TNG: A Time to Be Born, by John Vornholt
There are no comments on this book.