TNG: A Time to Love, by Robert Greenberger
Book Review by Jason Garza
A Time to Love opens on a rather downbeat note; there are transfer requests from various Enterprise crewpersons, and it is left to Troi and Riker to discern why—and to see if there as anything that can be done to stop the potential exodus. Enterprise, with its history of prestige, still carries the taint of failure from the Rashanar mission, and while that particular albatross is a bit tiresome for the crew, it still serves as a plot device; after all, careers have been brought down by less.

Greenberger does not allow for too many obvious upbeat moments; indeed, A Time to Love is, arguably, the darkest novel in the series at this point. The inhabitants of Delta Sigma IV, the oddly placid Bader and Dorset (they're at war everywhere else in the galaxy, save Delta Sigma IV) are at one another's throats, with the first murder in the planet's history occurring right before a planetwide celebration. At the center of the chaos is the always complex Kyle Riker, which means that Will Riker's personal demons take center stage as well. While these familial issues could get tiresome to the casual reader, longtime fans will revel in the complex emotional turmoil the younger Riker struggles to reign as he searches Delta Sigma IV for his estranged—and possibly criminal—father. Scouring the planet with Riker is Seer of Anann, a protocol officer and family man whose life choices have a profound effect on Riker, who, in addition to the father issues, is attempting to cement his relationship with Troi.

Of course, the rest of Enterprise is not left on the sidelines; Picard ponders whether or not he is within his purview as a Starfleet officer to take control of the planetary government, Troi counsels a woman psychologically scarred by the Dominion War, and Vale deals with professional losses. And, of course, we are treated to Dr. Crusher and her continuing efforts not to inform Picard of her career opportunity nor her true feelings. Here, the action and suspense is secondary to the human side of the story, and it is a tactic that serves the work well; Greenberger knows how to tell a very human story against a varied backdrop. By no means "fast-paced" or "edge of your seat," A Time to Love is a gripping yarn that ends with a reunion and the prospect of reconciliation. While not the best in the series, it is certainly a quality entry.
Click here to buy TNG: A Time to Love, by Robert Greenberger on Amazon
TNG: A Time to Love, by Robert Greenberger on Amazon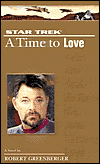 More Books You Might Like
Comment on TNG: A Time to Love, by Robert Greenberger
Comments on TNG: A Time to Love, by Robert Greenberger
There are no comments on this book.