TNG: A Time to Sow, by Dayton Ward, Kevin Dilmore
Book Review by Jason Garza
The third book in the "A Time to..." series, A Time to Sow begins on a Vulcan vessel in 2151 with the discovery of a probe and message from a dead civilization. Their planet obliterated by an ion storm, the Dokaalan race is something of a dead issue, remaining as such for over two centuries. However, Admiral Nechayev sees an opportunity for Enterprise to regain some of its lost luster: return to the long-forgotten Dokaalan system. With Starfleet and the Federation seeing them as a political liability in the post-Dominion War quagmire, Picard and his crew are left with no choice; it is this scientific mission of seeming exile or another sort of ennui. Enterprise marches forth to Dokaalan, only to quickly learn that nothing is as it seems; Enterprise discovers a colony of survivors eking out a living on a collection of asteroids, with plans in the works to terraform another planet in their solar system.

What follows is a well-structured, suspenseful yarn with significant character building and hard science. Ward and Dilmore introduce an entirely new civilization complete with cultural background and conflict in short order, a task that is by no means simple. And yet they pull off the Dokaalan marvelously, adding a new wrinkle into the moral fabric of the Federation; indeed, the Enterprise crew grapples with the issue that its offer of aid and assistance is not necessarily wanted. Possibly due to Dokaalan pride, possibly due to the deaths of twenty-seven Dokaalan in a transporter mishap. And then there's the little matter of key Dokaalan figures getting murdered and replaced by uncanny duplicates whose own agenda is an enigma.

A lesser author (or authors) might find themselves struggling to make the dangling threads plausible, but Dilmore and Ward have proven themselves time and again to be amongst the elite of Trek authors, their novels containing the perfect blend of suspense, humor, emotion, and intelligence. Touching on third-person perspectives from a bevy of Enterprise crewpersons—from Picard to Vale, Perim to LaForge, to say nothing of the Dokaalan and the mysterious alien infiltrators (sorry, you'll have to read "A Time to Harvest" for their identity)—as well as excerpts from Hjatyn, the Dokaalan first minister, Ward and Dilmore offer a thought-provoking, exciting read that demands a quick follow-up, leaving the reader hanging the way only the best suspense writers can.
Click here to buy TNG: A Time to Sow, by Dayton Ward, Kevin Dilmore on Amazon
TNG: A Time to Sow, by Dayton Ward, Kevin Dilmore on Amazon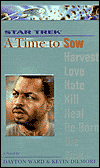 More Books You Might Like
Comment on TNG: A Time to Sow, by Dayton Ward, Kevin Dilmore
Comments on TNG: A Time to Sow, by Dayton Ward, Kevin Dilmore
There are no comments on this book.