TNG: Titan 1 Taking Wing, by Michael A. Martin, Andy Mangels
Book Review by Jason Garza
In December of 2002, I was sitting in a crowded theatre awaiting the opening crawl for "Star Trek: Nemesis." It was opening weekend, and I'd forgone the tradition of reading the novelization prior to watching the movie. Needless to say, everyone in that theatre was undoubtedly floored by at least one revelation throughout the movie. I myself was unable to get over one simple, early reveal: Will Riker was finally getting a command of his own, the USS Titan. I had never been a Riker fan; throughout all seven seasons of "The Next Generation," I felt his character had not really grown, that he would always be Number One, that his feelings for Troi would fritter away.

That said, I am probably the last person anyone would want reviewing the inaugural novel of "Star Trek: Titan," the aptly titled Taking Wing. Indeed, this book was approached with some reticence, though ultimately those feelings would be jarred from the beginning, as the novel had two things going for it: Romulans and the always wonderful writing team of Michael A. Martin and Andy Mangels. They turned what could have been a simple milk run into a well-crafted, intricately plotted, and utterly enjoyable novel that actually made me like Riker, something the A Time to... series managed to pull off as well.

Taking Wing introduces us to the myriad of characters populating the humans-are-the-minority starship; there are a wealth of potential character clashes sprinkled throughout the tightly-structured tome. From the initial repulsion caused by the raptoresque appearance of the ship's Pahkwa-thanh CMO, Dr. Ree; the ever-evolving pain and coping of Ranul Keru; and the unexpected presence of Admiral Akaar and his revelation of the mission to Romulus, the maiden voyage of Titan will be anything but normal.

Martin and Mangels manage a series of cameos and callbacks throughout the book, from the presence of Jaza Najem (last seen in "Fragments and Omens") to the covert assignment of Tuvok, even bringing Tomalak back from the depths of obscurity. While there is much happening in the 359 pages, it should be noted that Taking Wing is really a duology; most of the dangled threads will not be wrapped up until volume two. Despite the daunting task of introducing an almost entirely new crew and ship, Martin and Mangels pull it off with panache; this is one quick read that runs well into "The Red King." While some detractors will find the Romulus plot to be contrary to Titan's mission statement (something Riker and Akaar discuss) it ties up several leftovers from Nemesis. Indeed, other novels have and will continue to draw upon the trail blazed by Titan.

Overall, Taking Wing is a strong and expertly written book that anyone can enjoy, opinions of Riker notwithstanding. Many questions are answered, and criticisms are addressed (Deanna Troi: Counselor, Captain's Wife, Senior Diplomatic Officer; Riker believes this is a good idea?) and, as the cliché goes, even more are raised. Be forewarned, though: the end of the book will come as a surprise only if you've read "The Sundered"; if not, you probably won't hold your breath like I did...
Click here to buy TNG: Titan 1 - Taking Wing, by Michael A. Martin, Andy Mangels on Amazon
TNG: Titan 1 - Taking Wing, by Michael A. Martin, Andy Mangels on Amazon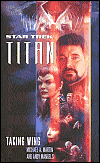 More Books You Might Like
Comment on TNG: Titan 1 - Taking Wing, by Michael A. Martin, Andy Mangels
Comments on TNG: Titan 1 - Taking Wing, by Michael A. Martin, Andy Mangels
There are no comments on this book.