TNG: A Time to Die, by John Vornholt
Book Review by Jason Garza
A Time to...Die. And there is death. That I can guarantee. Picking up immediately after the events in "A Time to Be Born," this entry into the nine book series is an important one, if only to set up the rest of said series. Here, the status quo is shaken; Admiral Nechayev is standing firm in her defense for the "mentally unfit" disgraced Captain Picard, Riker has been made acting captain of Enterprise, and Data must exist without his emotion chip.

And Wesley Crusher returns to save his shipmates, if only it weren't for that pesky Traveler code regarding non-interference with galactic affairs. Already conflicted, Crusher develops a fascination for Picard's Starfleet-mandated caretaker, Counselor Colleen Cabot. It seems that there is time for the young traveler to love, and in realizing that he must make a choice: return to his shipmates and life as a mortal, or sever another tie and resume his Traveling. And it is this thread that I found to be most invigorating out of the entire book. I wanted to know why Wesley was in the lieutenant's uniform at the Troi-Riker wedding, and while it wasn't answered completely in A Time to Die, it was slightly resolved.

As for everyone else, Enterprise travels to Rashanar and confronts the metamorphic ship while Picard attempts to prove that he is not, in fact, insane (yes, there is a bit of "All Good Things..." here, but it works itself out a bit bitterly) and Crusher ponders moving on to assume the mantle of leadership at Starfleet Medical. Also, Christine Vale and Kell Perim are fleshed out a bit more, and they will each play significant roles in the series to come.

Taken by itself, A Time To Die is a nice little story, but when compared against other books in the series, it's lacking a little bit of...pizzazz, really. However, Vornholt accomplishes the task with which he was assigned: showing that, at the end of the day, the Enterprise crew is not all spit and polish and is perfectly capable of making mistakes. It isn't a happy or even bittersweet ending, but upon conclusion, you will most certainly want to continue reading and see what awaits Starfleet's finest.
Click here to buy TNG: A Time to Die, by John Vornholt on Amazon
TNG: A Time to Die, by John Vornholt on Amazon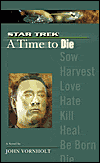 More Books You Might Like
Comment on TNG: A Time to Die, by John Vornholt
Comments on TNG: A Time to Die, by John Vornholt
There are no comments on this book.