Tandem, by Mike Philbin
Book Review by Bill Johnson
Lorien Howell, an estate manager at an Oxford law firm is seduced by her G3 whistle blowing client 'Actor Arrenay', as she calls him, to join him in liberating mankind from the Global Gambling Game or War World.

Of course, she doesn't believe him, in fact she despises his lunatic ramblings, until the evidence starts to mount in his favor and she finally sees what kind of a sick and manipulative world she inhabits. (Tandem, Philbin)

This book starts out fairly well but eventually the author strays off and has his character Lorien performing all kinds of super human feats against strange creatures. The book was fairly interesting up to this point with the character Lorien even having a lesbian affair with another woman aboard an airplane but in my opinion he gets too far off the beaten path when he has her fighting these strange creatures with powers that he has not laid the groundwork for.

I give the book three stars.

Click here to buy Tandem, by Mike Philbin on Amazon
Tandem, by Mike Philbin on Amazon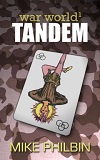 More Books You Might Like
Comment on Tandem, by Mike Philbin
Comments on Tandem, by Mike Philbin
There are no comments on this book.