Temple of Cod, by Adrienne Jones
Book Review by David A. Olson
Temple of Cod is a quirky mystery/dark-fantasy about an artist obsessed with drawing lighthouses--so obsessed that he can't not draw them. When his girlfriend leaves him because of his strange obsession, he returns to the lighthouse where he grew up. He set out to prove he can draw something else, but instead creates something more from deep in his subconscious than was rationally possible.

The dialog in the story is superbly intriguing. Lines such as, "Penises. That's what you paint," and, "Your paintings came to life to taunt you? F*** you, Elliot. We're not both crazy. And I missed a dinner date for this shit," decorate the manuscript with wit and brutal charm.

Jones dishes out the right details in the narrative to make a complete picture with an economy of words. For example, "She emptied a basket of cosmetics into an overnight bag," tells me just as much about the woman and what a slob she is as it does to tell me that she's leaving and taking her stuff with her. She's one of the few authors where I find myself reading every word instead of skimming for the good stuff.

Although relatively short, the mysteries in this story run deep. When every frightening aspect of the past is finally revealed, the characters are changed forever in surprising and poetic ways. If you like quirky dark-fantasy, you'll love this.
Click here to buy Temple of Cod, by Adrienne Jones on Amazon
Temple of Cod, by Adrienne Jones on Amazon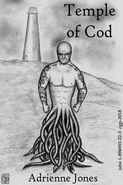 More Books You Might Like
Comment on Temple of Cod, by Adrienne Jones
Comments on Temple of Cod, by Adrienne Jones
Posted by CDM. on 10/7/2005
I have to agree with the review, Temple of Cod is one of my favorite Jones stories. Fans of this one should also check out Gypsies Stole My Tequila in the first AHOP anthology.