The Killing Machine, by Jack Vance
Book Review by Dave Hardy
The Killing Machine is the second volume in the Demon Princes series. Kirth Gersen and his grandfather were the sole survivors of the Mount Pleasant massacre many years before. The heinous deed was engineered by the Demon Princes, a cartel of interstellar gangsters. Now Gersen is a grown man and he is hunting down and slaying the Demon Princes one by one.

In volume two, the mcguffin is Interchange. While the Oikumene, Vance's version of the Space Empire, keeps most of known space pretty orderly (via the offices of the Interstellar Police Coordinating Committee, aka the Weasels), the Beyond is an area of lawlessness. It has only two organized bodies, the De-Weaseling Corps and Interchange. De-Weasleing is more or less self-explanatory, but Interchange is uniquely Vancean. Since kidnapping is an organized business, Interchange takes prisoners off the kidnappers' hands, ensures humane treatment and collects the ransoms (failure to pay means you go on the market for slavery). Gersen is tracking Kokor Hekkus, a specialist in terror who goes by the handle of "The Killing Machine". Ol' TKM has taken up kidnapping, an activity that seems to be related to a gigantic robot war-caterpillar that he's having built and a young lady held at Interchange who claims to be from the mythical planet of Thamber.

Vance keeps things moving in cheery fashion, with lines like "Only fools get de-weaseled, the IPCC is better off for it." My big criticism is that the real killing machine is Gersen, Kokor Hekkus turns out to be far more manipulative than murderous. Hekkus' predilection for kidnapping really amounts to exiling various wealthy people to a crappy hotel. Still, these are quibbles, The Killing Machine is entertaining from start to finish. Two down, three Demon Princes to go!
Click here to buy The Killing Machine, by Jack Vance on Amazon
The Killing Machine, by Jack Vance on Amazon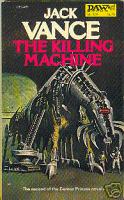 More Books You Might Like
Comment on The Killing Machine, by Jack Vance
Comments on The Killing Machine, by Jack Vance
There are no comments on this book.