The Patron Saint of Plagues, by Barth Anderson
Book Review by Sheri Fresonke Harper
Barth Anderson's The Patron Saint of Plagues is a fast-paced futuristic medical thriller where the hero, Dr. Henry David Stark of the Center for Disease Control attempts to stop a plague virus from decimating the population of Mexico and spreading to the rest of the world; very real seeming stakes that keep the pressure on the hero. Dr. Stark is at all times online with the internet, which helps him keep him in touch with the rest of the world. Although more attention is paid to plot in this story, Dr. Stark is at times, efficient, tender, brutal but believable as the investigator trying to unwind the causes behind the outbreak.

As events progress, Dr. Stark faces political, practical and emotional complications which pull him deeper into the conflict and put him in a situation where he can not escape and can not stand safely apart, administering a cure.

The world painted by Mr. Anderson is again a believable extension of the current political situation between the United States and Mexico. Anderson's future is one in which the border between the US and Mexico disintegrates into anarchy, where the elected Mexican government is corrupt, where the church plays a strong role, and where there is racial tension between the Indian community and the rest of the citizenry. Technology is not so futuristic that it couldn't be accomplished in the near future. One of the most interesting parts of the story is the documentation the spread of a plague and the way the health community handles it. Less well done is the concept of the pilone network, but it serves its purpose of providing additional disruption.

Sister Domenica plays an interesting role as the supporting heroine of the story. Events radically change her life. The role of martyr and of oracle who predicts the events and attempts to protect the people is well-portrayed.

As a mystery, this story works well, even though the reader is set up to quickly identify the person responsible. The author wisely keeps the "killer's" motivation and means safely hidden until near the end. He also uses a very clever means of killing people that adds spice to the story. Definitely a good first novel by Mr. Anderson, but I like a little bit more character development in my stories.
Click here to buy The Patron Saint of Plagues, by Barth Anderson on Amazon
The Patron Saint of Plagues, by Barth Anderson on Amazon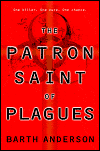 More Books You Might Like
Comment on The Patron Saint of Plagues, by Barth Anderson
Comments on The Patron Saint of Plagues, by Barth Anderson
There are no comments on this book.