The Phantom Tollbooth, by Norton Juster
Book Review by David A. Olson
Nothing means anything, so Milo is bored by everything. He spends all his time killing time. That is until a package appears in his room. When he opens it, he finds a kit for building a tollbooth. He does it, because he has NOTHING better to do, and enters a magical land. Soon he meets Tock, a dog who keeps people from wasting time. In the city of Dictionopolis words are for sale, but no one seems to care much what they mean. It isn't long before Milo learns that Rhyme and Reason have disappeared, and only he can get them back.

This book is an allegory for the way many things are taught in school. Knowledge is forced on the children often without making them understand why it is important to learn it. This naturally leads students to declare, "I'm never going to use this!" Often times they are correct--few people use integrals or the Pythagorean theorem once they leave school. While not getting deep into the issues of whether it is worthwhile to learn everything taught in school, this book does give reasons why it is important to learn some things, such as what words mean.

The plot of this book isn't very complicated, perhaps because the allegory dominates so strongly. Milo often has things happen to him and he sits through them rather passively. Even the climax of the book is rather weak because of this issue.

The characters Milo meets are one dimensional, but fun none-the-less. The Mathemagician's obsession with numbers, King Azaz The Unabridged's way of taking everything literally, and Kakofonous A. Dischord's fascination with terrible noises all make for wacky situations and dialog.

I'd recommend this book to people who feel like learning is pointless and to those who like "punny" humor.
Click here to buy The Phantom Tollbooth, by Norton Juster on Amazon
The Phantom Tollbooth, by Norton Juster on Amazon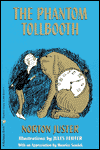 More Books You Might Like
Comment on The Phantom Tollbooth, by Norton Juster
Comments on The Phantom Tollbooth, by Norton Juster
Posted by Loan Nguyen on 11/19/2008
I read this book and it so good! Milo has a special kind of gift not just a regular one but it is knowledge.