The Seven Days of Cain, by Ramsey Campbell
Book Review by Michael D. Griffiths
I jumped into The Seven Days of Cain by Ramsey Campbell with the highest of optimism. The cover claims that he is one of the greatest horror authors alive today. I will admit I have not read much by Campbell other than a few short stories in an anthology or two. It has a creepy cover and is published by Samhain which is a company I have respect for.Everything had been set up for a wild ride, but unfortunately I do not feel that was what I received.

The book starts out slow, well actually the first half of the book starts out pretty slow. Andy and Claire are a young married couple who haven't been able to have children. Andy works with his parents, who are almost the only other characters in the novel, while Claire works helping the homeless. At first, not too much happens except for hints that Andy had an event occur in his past that he would rather keep from Claire.

Soon he is forced to admit to her that he created several online personas in a writing experiment. What Claire has a hard believing is that they have been given a life of their own.Some are hounding Andy and others are being killed. Claire suspects her husband is having a psychotic break, while Andy fears for his small family. This is set against a drab urban environment where these folks are not used to too much excitement.

The plot grows more complex when Andy believes the author that has been making him serve his strange photography needs is not only one of his creations, but is the same person who is trying to take his wife out on dates. The story reaches a climax on a dark and stormy night and events happen that will change their lives forever.

It could be my American ADHD media induced sensibilities, but this book dragged and did not pack enough of a punch to make it worth it. Part of me cannot help but wonder if this book came out with greater ease because the writer is famous, but if some smuch like me presented it, it would have been turned down. I hate to be harsh, but I guess I expect bigger authors to be better than the indie stuff I read that has only sold a hundred copies.

It is an entertaining story however, and certainly not terrible. The end has a clever twist and you do grow to care about the characters. Campbell also challenges himself by keeping the situation very low on the supernatural scale. Besides the people forming out of Andy's head, nothing else of any otherworldly nature is present. Perhaps I am just to Hollywooded to appreciate it and folks more mature than myself might find Andy's slow march toward his doom engrossing.
Click here to buy The Seven Days of Cain, by Ramsey Campbell on Amazon
The Seven Days of Cain, by Ramsey Campbell on Amazon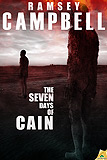 More Books You Might Like
Comment on The Seven Days of Cain, by Ramsey Campbell
Comments on The Seven Days of Cain, by Ramsey Campbell
There are no comments on this book.