The Silent House, by Ed Greenwood
Book Review by Nathan Meyer
I picked up The Silent House with great expectations--this is after all the creator of Dungeons & Dragons Forgotten Realms, an impressive bit of resume for anyone. In Silent House, Ed Greenwood has written a milieu epic spanning generations in the form of interlocking novellas based on members of the cursed Silvertree Family and their struggle against the Faceless in their haunted estate.

I'm afraid I was disappointed. For setting to work as lynchpin character, as The Silent House was obviously intended to do, then that setting has to capture the reader in the same way Tolkien's Middle Earth or ERB's Barsoom does. The canvas this story is painted on is simply too hazy to carry the weight assigned it.

Action is good in this story and characterizations are fair. However, since the story is broken up into generational novellas there really isn't time for any single character to stick in the imagination of the reader. Also the "dungeon crawl" aspect of the story promised in the cover blurb (a major reason I hoped to read this novel) never fully materializes.

In the end, The Silent House attempts to do so many great things it gets in its own way.
Click here to buy The Silent House, by Ed Greenwood on Amazon
The Silent House, by Ed Greenwood on Amazon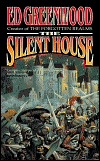 More Books You Might Like
Comment on The Silent House, by Ed Greenwood
Comments on The Silent House, by Ed Greenwood
Posted by Dave on 2/8/2007
I read this and enjoyed most of it. I thought the earlier stories were better, though I agree with the trying too much analysis. I dont' think the whole volume held together as well as the author wanted, but some of the individual tales worked quite nicely. Overall, I'd give it 3 stars, with some stories being close to a 4 or 5, and others a 1.