The Stolen Bacillus and Other Incidents, by H.G. Wells
Book Review by Phillip A. Ellis
The Stolen Bacillus, Well's first book, is a collection of miscellaneous short stories, not all of which could be called science fiction. There is a range here, a diversity of themes and settings that displays Wells' attempts to determine the direction of his future writing career.

That science fiction, or, rather, scientific romances, was to win out in the immediate future can be guessed from some of these stories. There is an element of adventure in a number of these stories, and the settings range from India and the Orient to Britain.

Of them, the title story is only marginally speculative. That element is in the prospect of biological agents used in terrorism, which is, in its way, prescient. But the story, nonetheless, retains a contemporary feel. The fear, here, is anarchism, not terrorism, as such, and in this way Wells was on par with his contemporaries.

The next two stories are more speculative. Yet they lack the scientific element that some may consider the core of science fiction, despite science being evident. They also lack an intellectual element, and they point towards the humanist use of the speculative in Wells' later novels.

There are yet others in which the speculative element is missing. "Through a Window" is one: it is more properly suspense fiction. It point towards the fact that this book is really a collection of disparate elements. Some of the stories promise of Wells' future, some do not. Some are mundane, others bring the unusual into the world of the mundane.

Stylistically, too, The Stolen Bacillus is an early book, though with promise. These stories are Wells' experiments, his attempts to see where he will go with his writing. As a result, The Stolen Bacillus is best enjoyed by a Wells devotee, and those who like his tight, economic style.

Despite its attractions, the book is simply not one that will be fully enjoyed by fans of speculative fiction, which is a pity. Its diversity, its range of subjects could prove salutary for many, especially those who read speculative literature alone.

The Stolen Bacillus is worth reading. But it is too uneven to be called a speculative book; it is a book with some speculative elements. As a result, it is difficult to assign a meaningful rating to the book. It is high, 4 and a half stars, for devotees of Wells and early speculative fiction. But, for the general fan, is is much less attractive, rating far lower.
Click here to buy The Stolen Bacillus and Other Incidents, by H.G. Wells on Amazon
The Stolen Bacillus and Other Incidents, by H.G. Wells on Amazon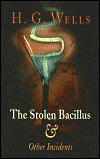 More Books You Might Like
Comment on The Stolen Bacillus and Other Incidents, by H.G. Wells
Comments on The Stolen Bacillus and Other Incidents, by H.G. Wells
There are no comments on this book.