The Weird of the White Wolf, by Michael Moorcock
Book Review by S C Bryce
"The Weird of the White Wolf" is the third in Michael Moorcock's renown six-book "Elric Saga," a classic of high fantasy, dark fantasy, and sword & sorcery. Like many other of Elric stories, these were originally written as pulp serials. Readers who like tight continuity should be warned that some of these adventures are more closely connected than others.

"Prologue: The Dream of Earl Aubec" is the story of the relationship between Law and Chaos and how the world is created. It's an interesting aside that does not involve Elric, but does provide a reference point for later adventures.

In "The Dreaming City," Elric has been declared a traitor and renegade. His love, Cymoril, is once again in a sorcerous slumber. Enraged, Elric returns to Imrryr to locate Cymoril.

"While the Gods Laugh" takes place one year later. Sharrilla, a wingless woman of Myyrrhn enlists Elric's help in her search for the Dead Gods' Book. Together, they set off to find this mythical book of wisdom that most doubt exists. Traveling through strange landscapes and battling against strange foes, they come across red-headed Moonglum, who joins their quest. Elric, haunted by his acts in "The Dreaming City" searches for peace changes Elric from the passivity of "Elric of Melnibone" (Book 1 of the "Elric Saga") to reckless obsession.

Another year has passed since "The Dreaming City," and Elric and Moonglum embark on another adventure in "The Singing Citadel." They sail to Dhakos in Jharkor. This time, his capricious aid is sought by Queen Yishana of Jharkor, whose kingdom has been invaded by the sudden appearance of a sorcerous citadel. Hundreds have disappeared, lured by the citadel's haunting song.

In this third book of the "Elric Saga," Elric becomes the guilt-ridden, guilt-driven, fickle, wild sword-slinger that his fans know and love. Elric's reputation is even more legendary throughout his world, filled with rumor and half-truths, and fed by his fickleness, sense of crushing doom, and vampiric runeblade, Stormbringer.

Critics of Elric will find all the usual faults: Moorcock glosses over some of the more interesting features of his world, some fights are given short shrift while others linger over-long, and Elric too often relies on others (whether Stormbringer, supernatural allies, or gods) to extricate him from danger. Still, for its importance in the genre, creativity, and pace, I rate it a 9 out of 10.
Click here to buy The Weird of the White Wolf, by Michael Moorcock on Amazon
The Weird of the White Wolf, by Michael Moorcock on Amazon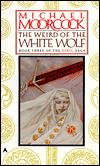 More Books You Might Like
Comment on The Weird of the White Wolf, by Michael Moorcock
Comments on The Weird of the White Wolf, by Michael Moorcock
There are no comments on this book.