The Wounded Hawk, by Sara Douglas
Book Review by Steven Sawicki
This is the second book in Douglas' The Crucible Series. It furthers the story of Thomas Neville, a noble born man who gave it all up to join the priesthood to find peace. Peace is not forthcoming however as Thomas finds himself singled out by none other than the Archangel Michael for a coming battle against the spawn of hell which has broken free and now roams the Earth, or at least medieval Europe. Thomas quits the priesthood, marries, becomes even more embroiled in politics and intrigue as he attempts to figure out who is who and what is right.

The story takes place in the fourteenth century and is set in an alternate universe where many, if not most, things are the same or similar. Douglas casts here characters directly into harms way while raising doubts about who really knows what and which perspective is the right one. There are multiple characters working at cross purposes on the main historical stage here and you are never quite sure which is just a political move and which, if you believe the demons and angels, is a move in the greater war.

Douglas sets a fairly fast pace in what is a big book as she moves the story forward toward the conclusion of the series. Middle books can be difficult because of their placement as the place where things happen that are neither new nor finished. She does an excellent job of maintaining reader interest by utilizing numerous character set backs and by keeping the focus not only on the main plot but on the setting in which the plot moves. The writing is crisp, clear and focused which all comes together to make for a very entertaining read.
Click here to buy The Wounded Hawk, by Sara Douglas on Amazon
The Wounded Hawk, by Sara Douglas on Amazon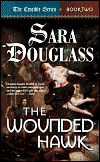 More Books You Might Like
Comment on The Wounded Hawk, by Sara Douglas
Comments on The Wounded Hawk, by Sara Douglas
There are no comments on this book.