The Book of Fritz Leiber, by Fritz Leiber
Book Review by S C Bryce
Speculative fiction grandmaster Fritz Leiber compiled a two volume collection in the 1970s. These slim books spanned his entire career and cut across his many interests and styles. Leiber was more than just a speculative fiction writer. He was a Shakespearean actor, a theological student, and an editor of a science digest. His interests ran from astronomy, to cats, chess, philosophy, psychology, politics, and history. He was one of the founders of sword and sorcery (as well as coined the term), but also wrote science fiction, humor, "weird tales," supernatural horror, and stories that are combinations of these sub-genres.

In The Book of Fritz Leiber, he alternates essays and stories. The nine essays run the gamut. They discuss the psychological and historical function of monsters (both real and imaginary), literary masters that formed speculative fiction (including Shakespeare, Robert E. Howard, and HP Lovecraft), linguistics, chess (he was a grandmaster of that art also), and other topics.

Such was Leiber's sense of wonderment at the world that it can take the reader a moment to distinguish between his nonfiction and his fiction. Trust to Lieber to convince the reader that the movement of molecules through the universe is a beautiful, amazing, and fabulously mysterious phenomenon. And it is easy to see how a person with such curiosity, analytical ability, and talent could turn everyday society and science into memorably crafted stories.

The ten stories Leiber included in this volume, like the essays, are a varied sort. There are monster stories, alien stories, romantic comedies, romantic tragedies, hard science fiction, supernatural horror, and sword and sorcery. Most of these hand-picked stories had only limited runs before this volume (indeed, the Fafhrd and Gray Mouser tale, "Beauty and the Beasts" was written specifically for this collection).

Two of this reader's favorites were "A Hitch in Space," a comedic horror in which a man working in space discovers his companion is mentally unstable, and "Yesterday House," a traditional "weird tale" combining science, vengeance, and romance.

The main weakness of The Book of Fritz Leiber is that, given the first publications date to 1932, both style and content can be dated. Leiber's essay on linguistics, for example, seems quaint in our globalized culture and "Yesterday House" has a picturesque formality not often seen these days.
Click here to buy The Book of Fritz Leiber, by Fritz Leiber on Amazon
The Book of Fritz Leiber, by Fritz Leiber on Amazon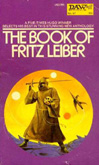 More Books You Might Like
Comment on The Book of Fritz Leiber, by Fritz Leiber
Comments on The Book of Fritz Leiber, by Fritz Leiber
There are no comments on this book.