The Captain's Witch, by Rosemary Hawley Jarman
Book Review by Daniel E. Blackston
Put quite simply: this is one of the best fantasy novels I have read this year.

I hardly know where to begin heaping compliments on this novel: the writing is lyrical and inspired, there is a conspicuous absence of technical flaws or turgid filler, the characters and conflicts are both interesting and believable, the use of magic and archetypal symbolism is intelligent and original, the plotting complex but rapidly unfolding -- every element, down to the precise figurative language employed throughout the narrative, is superlative in concept and execution.

This is the way to write a fantasy novel -- and how!
Evident among Rosemary Hawley Jarman's many gifts is a flair for authentic eroticism, which is unmarred by any sense of exploitation or gratuity. The sex in The Captain's Witch is integral to the story and it is also integral to the narrative voice, which seems to emanate through a succession of ecstasies, some revealed through poetically imagined landscapes, some through the holistic Lion-symbolism and still more through variations of erotic power. Like Tanith Lee, who described the novel as "One of the greatest dark fantasies ever written -- in any genre" Jarman possesses an unquestionably virtuosic ability for both bold world-building and lyrical narrative writing. Also, like Lee, Jarman's world and characters emanate with an indelible "realism" which strains the bounds of technical "explanation."

Reading this novel, you are truly in the presence of greatness and, that said: all magical possibilities that can be opened by a Master novelist are evident here.

The basic story is so archetypal in nature, so "dream logical" that Jarman is able to exploit the ease with which a reader can follow her truly epic story with stylistic and thematic sophistication. This mean even the most casual reader will be moved, emotionally, and also, moved along, as no time, no words are wasted here.

Present among a wide cast of characters are a tomboy urchin, a sorceric femme fatale, and of course, the titular Captain whose talents range from the martial to the truly empathetic, although Jarman is too skillful a novelist to excessively describe any of this; rather the characters and their realities unfold gracefully from the brilliantly devised setting and well-rooted plot.

If I have any small criticism of this book and it is perilously difficult to find anything to nag about, it might be certain passages of dialogue which may seem to some readers a bit forced. However, this is the tiniest of critiques and pales before the majesty of the novel as a whole.

In short, I can't tell with greater assurance to buy any fantasy novel and read it -- if you are searching for something truly brilliant, and truly original, that is. And if you are looking for something to entertain you and take your breath away -- get yourself a copy of The Captain's Witch by Rosemary Hawley Jarman.
Click here to buy The Captain's Witch, by Rosemary Hawley Jarman on Amazon
The Captain's Witch, by Rosemary Hawley Jarman on Amazon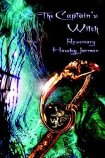 More Books You Might Like
Comment on The Captain's Witch, by Rosemary Hawley Jarman
Comments on The Captain's Witch, by Rosemary Hawley Jarman
There are no comments on this book.