The Champion of Garathorm, by Michael Moorcock
Book Review by S C Bryce
Michael Moorcock's hero, Dorian Hawkmoon, continues his adventures in The Champion of Garathorm, book 2 of "The Chronicles of Castle Brass."

What is reality? Hawkmoon has fallen into madness, convinced that his (and others') actions in "The History of the Runestaff" and "Count Brass" have changed time and disordered the multiverse. Did Yisselda die at the Battle of Londra along with so many other heroes? Or did she survive, eventually giving birth to two children? Hawkmoon is convinced that the latter is true, although all evidence points to the former. Why is his memory of the last five years different from all others'? Why does no one remember his children? Despite efforts to cure him of his madness, Hawkmoon persists in his beliefs and falls into self-destruction.

Then renowned commander Katinka van Bak appears at Castle Brass with tales of a ravenous army on the other side of the Bulgar Mountains. Her story intrigues Hawkmoon and he rouses from his contemplations long enough to follow her through the countryside. Along the way, they encounter Jhary-a-Conel (a familiar incarnation of the Companion of Champions) and his winged cat, who join their group.

Katinka leads them through a twisting cave that leads between dimensions. There, Hawkmoon comes face to face with the reality that he is but one manifestation of the Eternal Champion. There in the cave, lies another—Ilian of Garathorm, whose soul was driven from her body. Have Katinka and Jhary tricked Hawkmoon here in order to put his soul in Ilian's empty body? Yet Hawkmoon will be rewarded with evidence that proves his fears about Yisselda's fate were well-founded.

Readers looking for another Hawkmoon adventure like those in his first series, "The History of the Runestaff," may well be disappointed. Hawkmoon is a distinctive character. Caught up in these inter-dimensional and cosmic events, Hawkmoon loses much of his practicality, rebelliousness, and decisiveness. He no longer takes the initiative; the story advances as he reacts. Hawkmoon quickly descends into the category of heroes trapped going from one adventure to the next, most of which have little to do with him directly. He is used by first one power than the next, never certain of why or how.

Moreover, fully half this book is spent with Hawkmoon-as-Ilian who, with Katinka and Jhary's help, seeks to save her land from the hordes of Chaos led by the brutal Ymryl of the Yellow Horn (an avatar of Elric's Horn of Fate in "Doomed Lord's Passing," in "Stormbringer," Book 6 of "The Elric Saga"). Thus, the intriguing mix of sword and science-sorcery and the unique culture of the Dark Empire that characterized Hawkmoon's world are replaced by more standard sword-and-sorcery fare. The Ilian story-line, however, is crafted in true Moorcock fashion, with sword-swinging mixing with philosophy. Because of its limited appeal, I rate this a 6.
Click here to buy The Champion of Garathorm, by Michael Moorcock on Amazon
The Champion of Garathorm, by Michael Moorcock on Amazon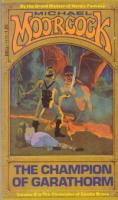 More Books You Might Like
Comment on The Champion of Garathorm, by Michael Moorcock
Comments on The Champion of Garathorm, by Michael Moorcock
There are no comments on this book.