The Chronicles of Bear: This Dark Time, by Tim Fisher
Book Review by Susie Hawes
"What if? Forget it, it's happened. Why? It doesn't matter. The world's electricity has ceased to exist."

Tim Fisher's new novel, This Dark Time, begins without preamble, throwing us into a world without electricity, plagued by a mutated race of humans who seek to feed on the rest of humanity. It's a bleak, gritty look at an alternate reality. As we follow the lives of a handful of travelers we examine the human heart, filled with hopes, dreams, sadness and faults. Loss and gain are experienced by these people and their lives and choices are explored as they travel across a dangerous landscape.

The once familiar southern United States becomes as alien as a world on the outer reaches of the universe. Familiar cities and places are altered, and we move through them discovering the changes this world has undergone. The effect is startling.

This Dark Time starts with Bear and his friends, a troop of actors and survivors used to the life style of an older time. They are somewhat prepared for a life without the trappings of modern civilization, yet the response to this changed world has them both angered and confused as gangs take over the cities and the plague kills off entire families. These people embody the common strengths and weaknesses of humans everywhere. They begin to gather supplies from the surrounding countryside, raiding cities and towns in an effort to survive.

Next we are introduced to Davata and her group. They are a motley crew of humans living in the south who determine that they might be safer near San Antonio, Texas. Their present location gets too cold in the winter, and there are hurricanes to contend with, but San Antonio seems a safe haven. Their number includes minorities, foreshadowing trouble with racial prejudice. They determine to leave their homes in search of a place they can build a new world without interference.

The setting is as much a character in this novel as the people are, with lines like:

"The area around the creek was quiet and peaceful. There was still lush vegetation along the banks. The only sound was that of the water as it flowed around and over rocks, occasionally protruding above the surface. Large Cypress and Spanish Oaks were plentiful here, and appeared to be the home of numerous types of birds."

At last the two groups meet up and join forces, then add other refugees. They call themselves the Rebel's Revenge.

Old prejudices are set aside to increase chances for survival. They settle around Austin, Texas and concentrate on making a safe camp. Enter the New South Militia, a white racist organization that has enslaved minorities. The group is angry, and at odds with the Militia, foreshadowing trouble later in the series as Rebels' Revenge first rescue two of their members from the Militia and then capture one of the Militia's men, only to accept him into their compound. Meanwhile it is revealed that the Mutants can reproduce themselves by biting or scratching a human.

This novel ends with the Rebels Revenge Making camp in a resort. Bear is recovering from his wounds and Davata is watching over him. As these people define themselves by their choices we can see conflicts on the horizon.

The author relates his tale by means of dialog and exposition. I would have preferred to see a bit less exposition and the use of more sensory words. I like to be shown how a story unfolds, rather than being told the tale. Still, with such strong characterization and with so complex a world, this book is compelling. The characters' danger and their way of bonding is real. This story is worth pursuing. For a first novel in a series, it is very well done. I give it a four out of five stars and recommend that you pick up a copy. Mr. Fisher is a writer to watch.
Click here to buy The Chronicles of Bear: This Dark Time, by Tim Fisher on Amazon
The Chronicles of Bear: This Dark Time, by Tim Fisher on Amazon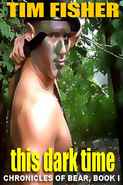 More Books You Might Like
Comment on The Chronicles of Bear: This Dark Time, by Tim Fisher
Comments on The Chronicles of Bear: This Dark Time, by Tim Fisher
There are no comments on this book.