The Chronicles of Jack Primus Book II, by Michael D. Griffiths
Book Review by Claire Nash
Book two of the Chronicles of Jack Primus was released in early 2013. Packed with action, romance sci-fi and horror, I must say it was a hard book to put down. Griffiths starts his second book exactly where the first one left off: with Jack Primus on the move and reflecting on his new Stalwart abilities and contemplating his previous encounter with the evil Xemmoni.

He is still in the New England area and narrowly escapes capture by a new den of Xemmoni who have taken over an entire office building. He helps an innocent human man try to make pieces of what has happened, and discover that most of the office's staff have become tools of the Xemmoni via an evil computer virus. It almost seems as though Jack may be overpowered by a multitude of evil office-workers, but Jack miraculously saves himself with his clever wit and use of his gifts from Yig.

Another chapter switches to a different perspective. The new character, Ellis, and his wife Kimberly are on the end of their road trip vacation and decide to go and see the ocean while driving along the Gulf of Mexico. They drive down a back road that is not on their map and come across another couple in need of assistance following a near crash with a mysterious van. As any Good Samaritan would do, Elliot and Kimberly go down to the murky shores of the swampy gulf waters and begin to perform emergency first aid on an injured woman. After securing the woman in "shock position," they get into conversation with the woman's male counterpart and another guy who stopped to help. The injured woman mysteriously disappears (though the reader knows that she was actually dragged off by some seaweed-like tentacle things) and a search soon begins. Coincidentally, Jack Primus enters the scene and warns the travelers that the road that they came in on had been gated and locked shut.

Before the party could find the missing female victim, the same van from earlier comes at the group, then disappears down a sandy, abandoned road. A chase and a fight ensue, leaving only Jack, Ellis and Kimberly alive. The trio have no choice but to continue down the road they were on, luckily leading to an island-like village where they catch a Ferry back to the mainland. Once on the Ferry, they are attacked again by a giant seaweed monster, that nearly sinks the entire boat. Primus prevails and slays the beast, then jumps ship with his motorcycle in order to evade the authorities (in a very bad-ass way!). Ellis and Kimberly are left wondering when they will ever see their new friend Jack Primus again.

Ellis continues to narrate the story, but then yet another type of narration is used. Ellis tells of a blog that Primus started in order to tell his story and keep others' in the loop about what is happening with the war against the Xemmoni. Jack speaks of wanting to seek the Xemmoni out and to rid our world of their evil influence for good. However, Jack is abducted into some type of dimensional prison in space. He must continually fight for his survival in a kind of Gladiatorial arena on an unknown planet. Primus faces a plethora of other beings, including other types of Stalwarts and different races of Xemmoni. He makes use of his time in captivity by learning about the Stalwarts, their deities, and truths about the multiverse. He eventually is freed and is sent back to Earth, with some help from an incarnation of the original Yig and comes back to his home planet with a new thirst for vengeance and a desire to kill all Xemmoni.

During his new personal war, he teams up with other Stalwarts and even forms an alliance with a clan of Xemmoni that appear to be less evil than the particular ones that he wishes to take out. This time, Jack barely evades death and is conveniently saved by Elliot and Kimberly, who had tracked him down by following his blog. We'll have to wait until book III comes out to find out if Jack can save his new Stalwart girlfriend, and perhaps the world as we know it.
Click here to buy The Chronicles of Jack Primus Book II, by Michael D. Griffiths on Amazon
The Chronicles of Jack Primus Book II, by Michael D. Griffiths on Amazon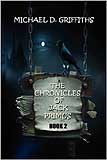 More Books You Might Like
Comment on The Chronicles of Jack Primus Book II, by Michael D. Griffiths
Comments on The Chronicles of Jack Primus Book II, by Michael D. Griffiths
There are no comments on this book.