The City of Dreaming Books, by Walter Moers
Book Review by J Y Saville
Another illustrated, gently humorous fantasy novel from Walter Moers, set in the land of Zamonia; it is a stand-alone work, but those who have enjoyed the other Zamonian novels should also enjoy this one. The author's line drawings are a treat, and the chapters are numbered using an ancient Zamonian script: I couldn't work out how far through I was but it all added to the ambience.

Optimus Yarnspinner is a dinosaur on a literary quest which takes him to the book-lover's paradise of Bookholm. It may be a 'city of dreaming books' full of antiquarian book shops, but that doesn't preclude a host of fantastical creatures and a fair amount of Indiana Jones-style adventure involving labyrinths and booby-trapped books, not to mention armed book-hunters fighting to the death over rare editions. A city so full of publishers, printers and poetry-readings also lends itself to a satire on the book industry, covering unscrupulous publishers, agents with no appreciation of literature, venomous critics and the gullible masses of the reading public. As the novel progresses, Optimus comes to understand the power of great writing and also to believe in the Orm, a mysterious spirit which great authors are said to channel.

For long stretches, this novel is a compelling read and quite entertaining, but there is a tendency to stretch a joke that little bit too far, and to include long lists such as titles of Zamonian novels, so that it does feel like the book's 456 pages are a little too long for its plot. Moers indulges in a spot of literary showing off, together with some superfluous pastiche and lightly-veiled criticism, and it can get a bit tedious at times if, like me, you don't get all the references to classic authors and poets. A bit less of that may also have given him more room to explore some themes which had potential but were never followed up, such as the idea of the lost souls of forgotten books.

I wouldn't urge anyone to rush out and buy it, but it was an enjoyable read, probably appealing most to those who enjoy their fantasy along the lines of Tom Holt.
Click here to buy The City of Dreaming Books, by Walter Moers on Amazon
The City of Dreaming Books, by Walter Moers on Amazon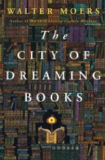 More Books You Might Like
Comment on The City of Dreaming Books, by Walter Moers
Comments on The City of Dreaming Books, by Walter Moers
There are no comments on this book.