The Coming of Dragons, by A. J. Lake
Book Review by David A. Olson
The Coming of Dragons is a YA novel about a boy and girl who have to save the kingdom/world. (Yes, it's a pretty common plot.) Near the start a dragon attacks the ship they are both on, and the boy finds that he can enter the minds of the dragon, and lots of other people as it turns out. A short while later the girl has a magical sword welded onto her arm that disappears when not in use.

The beginning of this book is pretty exciting, and has lots of cool magic which promises an exciting plot to follow. Unfortunately, it doesn't really become that exciting. The middle of this book is one of those episodic traveling adventures, like the Hobbit, where a bunch of mini adventures happen that don't advance the story much, if at all. In the Hobbit, these stories are interesting and unique. In this book they're kind of average and not very memorable. I got bored during this part of the book and started skimming. I probably wouldn't have become so bored, except the characters weren't growing on me. They were also average and not very memorable.

The ending of the book is a cliche and I had no emotional reaction to it at all. There's a betrayal, which should be thrilling, but all the betrayal happened a long time ago and involves someone who we never saw being nice anyway, so it wasn't shocking. I just shrugged my shoulders. When it got to the end and we learned there were even bigger problems that needed solving in future books, I once again shrugged my shoulders.

All that said, one good part about this book is that it does feel like it really takes place in an alternate England set about one thousand years ago. If the focus of the story had been on this, I would have rated the book higher, but this was unfortunately always deep in the background. If you're looking for a YA fantasy which isn't very original or memorable, then I'd recommend this book. It's not bad, just average.
Click here to buy The Coming of Dragons, by A. J. Lake on Amazon
The Coming of Dragons, by A. J. Lake on Amazon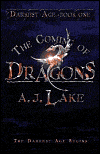 More Books You Might Like
Comment on The Coming of Dragons, by A. J. Lake
Comments on The Coming of Dragons, by A. J. Lake
There are no comments on this book.