The Court of Lies, by Mark Teppo
Book Review by Jeremy D. Carr
The Court of Lies by Mark Teppo is a collection of various short stories covering a wide scope in the sci-fi/fantasy genres. From mermaids to werewolves to Orwellian future-scapes to Santa and the North Pole at Christmas time, this collection shows the power of Mark Teppo's imagination and his prowess at bringing it into the world.

I enjoyed a majority of these stories, however, in a few cases, I did find the writing to be a bit ostentatious and overly enigmatic. Mark Teppo is obviously a "big idea" guy, and I think some of these stories just were not big enough to fit the idea. This was my first time reading Mark Teppo, and although I only gave this book 3/5 stars, it did pique my curiosity in his longer work, and I look forward to checking out his Codex of Souls series to see what his imagination can do when given plenty of room to run.

If you are a Teppo fan definitely give this book a look, and if you are not maybe give it a shot anyway if it sounds like your thing. Here is a quick look at the stories in the collection to help you decide.

"How the Mermaid Lost Her Song" - some problems are universal, a battered mermaid pays the ultimate price for freedom

"The Transformation of Nickolaus Caspian" -- a disturbed artist faces the source of his madness... and his destiny

"Chance Island" -- a gothic tale of a fisherman who sets foot on the wrong shore

"The Nihil Nation Manifesto" -- kill your television and learn to LISTEN!

"Mallory's Quick-Quick Seduction Cookies" -- a world famous chef with most dangerous tastes

"The Queen of Faith" -- seven poker players enter a game where the stakes get higher than any of them bargained for

"Wolves, In Darkness" -- a glimpse into the truth behind the myth of werewolves

"Death" -- behind the scenes of the ultimate performance

"Sequence" -- every sequence of events takes a turn at some point, this one a sharp one

"Upon Drinking a Half-Glass of the Olde Saturnine Toade" -- beware when imbibing an alchemist's brew, and always maintain your faith

"The Surgery of Self" -- some problems can only be fixed from within

"The Lost Technique of Blackmail" -- an Orwellian Google-scape where information is the most valuable weapon

"De Orso Meo Ad Venticum" -- a soliloquy on the deconstruction of belief

"Heart of the Rail" -- an old train man finds new life in his work

"Hauntvine" -- a singing plant that gives voice to the dead

"The One That Got Away" -- sometimes lies are easier than the truth

"A Christmas Wish (redux)" -- Santa Claus is real, and he is a total bad-ass!
Click here to buy The Court of Lies, by Mark Teppo on Amazon
The Court of Lies, by Mark Teppo on Amazon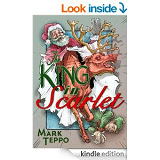 More Books You Might Like
Comment on The Court of Lies, by Mark Teppo
Comments on The Court of Lies, by Mark Teppo
There are no comments on this book.