The Fuller Memorandum: Book 3 of The Laundry series, by Charles Stross
Book Review by SJ Higbee
This account is narrated as a debrief by the long suffering Bob Howard, who works for the undercover British agency known as The Laundry. They are a down-at-heel, typically Brit-bodge version of the Men in Black, busy battling with nasty occult occurrences and alien incursions. Bob is trying to come to terms with the emotional fallout after his latest hair-raising adventure.

A top secret dossier goes missing. At the same time, Angleton, Bob?s boss disappears. No one is saying very much at The Laundry but suspicion, like mud, sticks. While struggling to clear his own name and Angleton's tarnished reputation, Bob also has to cope with over-helpful Russian agents, worries about an apocalyptic cult targeting his wife - and the trail of dead bodies. What is so important about the missing Fuller Memorandum and why is everyone who knows dying...

Told in first person viewpoint, this spy horror clips along with all the zest and ink-black humor of the previous books in the series. Poor old Bob has to put up with a lot, and his world-weary, humorous commentary gives this book an extra twist of enjoyment. Stross evidently has great affection for Bond films and H.P. Lovecraft's fiction, because he borrows elements from both these influences and mixes them in a neat combination that has you chuckling while your skin pimples... It is a uniquely disturbing and memorable reading experience.

The world works wonderfully well and Stross skilfully plays with the tedium of Bob's everyday office life set against the dangerous nature of his job. So the knowledge that we are on the verge of being invaded by some ghastly alien power vies with the notion that all paperclip movement needs to be strictly monitored because they become imprinted with traces of the documents they fasten... The book teeters on the edge of farce and horror all the way to the suitably horrific climax.

Stross is no slouch at characterization, either. Mo, Bob's intrepid and very accomplished wife, is beautifully drawn. Those of you who have read the previous books in this series, might be interested in Bob's version of what happened... Memory is wonderful for papering over the cracks in our self-esteem and Bob is evidently quite capable of mis-remembering exactly who rescued whom in The Jennifer Morgue. But Angleton, Bob's mysterious boss, is the true star of this tale and Bob's viewpoint of him, along with his understandable resentment as a subordinate, is compelling enough to draw us in and make us care - very important in this story.

Any grizzles? Well... I'm being ultra-picky here - but in a genre where pace is everything, there were instances where I felt Bob's doom-laden monologues could have done with being pruned back for the sake of keeping the tension wound sufficiently tight. But, overall, it is a trifling detail. I think this book is a triumph. If you're feeling a bit jaded and looking for something truly different, then look no further. You won't pick anything else off the shelves quite like this, I guarantee it.

Click here to buy The Fuller Memorandum: Book 3 of The Laundry series, by Charles Stross on Amazon
The Fuller Memorandum: Book 3 of The Laundry series, by Charles Stross on Amazon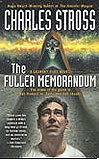 More Books You Might Like
Comment on The Fuller Memorandum: Book 3 of The Laundry series, by Charles Stross
Comments on The Fuller Memorandum: Book 3 of The Laundry series, by Charles Stross
There are no comments on this book.