The Glasswrights' Apprentice, by Mindy L. Klasky
Book Review by Joshua Palmatier
I've just finished The Glasswrights' Apprentice by Mindy Klasky and I have to say that I thought it was good. It's getting harder and harder to find fantasy books out there that aren't urban or paranormal. This one of those grand old medieval setting fantasy novels, although it's set in another land, not on earth in our own past.

The main idea is that Rani's family has gathered up enough money to send her to the Glasswrights' Guild, thus setting her a level higher in the caste system of this world. In essence, her station is now above her own merchant family. However, when she inadvertently stumbles upon an assassination attempt on the prince and tries to warn him, her entire world--not to mention the guild she has so recently become a part of--tumbles down around her.

All of this happens in the first few chapters of the book. The rest of the book is how Rani manages to survive when her guild has been destroyed and any connection to the Glasswrights warrants a death sentence. She remains focused on her own survival, but somehow at every step she seems to get drawn farther and farther into the political intrigues that she stumbled into to begin with.

I had some minor issues with the novel overall--some of which were annoyances that were explained in satisfactory detail as the book progressed. The writing was good, although you can tell that this was a debut novel. The emotions of Rani at times weren't quite solid enough or weren't explored enough, but I suspect based on how the book ended that this will get better as the series progresses.

One thing that should be noted about this book is that even though it has a fantasy setting, it does not have any magic, at least not in this first book. This is a medieval fantasy with lots of political intrigue . . . and that's it. It reminds me of Katherine Kurtz in some respects, although her books were much more detailed regarding the world, and of course she did have magic interwoven into the world.

But even without magic, The Glasswrights' Apprentice was an interesting read and I intend to move on to the sequel, The Glasswrights' Progress as my next read. I'm interested in seeing where Mindy Klasky takes us next.
Click here to buy The Glasswrights' Apprentice, by Mindy L. Klasky on Amazon
The Glasswrights' Apprentice, by Mindy L. Klasky on Amazon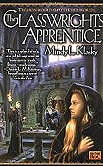 More Books You Might Like
Comment on The Glasswrights' Apprentice, by Mindy L. Klasky
Comments on The Glasswrights' Apprentice, by Mindy L. Klasky
There are no comments on this book.