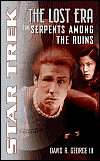 Genre
Star Trek
Publisher
Pocket
Year Published
2003
Review Posted on
1/21/2007
Reviewer Rating

The Lost Era: Serpents Among the Ruins, by David R. George
Reviewed by Jason Garza

If you've read this book, why not
---
One look at the cover and the first thing that comes to mind is, this guy killed Kirk, followed by, and he ruined his dad's Ferrari. And, chances are, those preconceptions might steer someone away from what is, in fact, one damned fine novel and the best entry in the whole of the Lost Era line.

Serpents Among the Ruins surrounds the events leading up to the much alluded Tomed incident that served to solidify the Klingon-Federation alliance—and send the Romulans into a decades-long exile. Naturally, David R. George III's explanation does not disappoint. While most readers know that the relationship between the Romulan Star Empire and the Federation will deteriorate by novel's end, the events leading up to Tomed are compelling.

The tension builds when the Universe blows up (a wonderfully apropos name, considering the circumstances), killing a skeleton crew of Starfleet officers and injuring one Admiral "Blackjack" Harriman. The ensuing accusations—that the Federation is attempting to develop a first-strike weapon to utilize against the Klingon and Romulan Empires—destabilize negotiations between the three parties occurring in the remnants of the Algeron system. And so Enterprise arrives at Algeron to deliver specifications of Starfleet's alleged weapon, where two of Starfleet's finest will come face-to-face with their destinies.

Beneath the action lies an intricate web to plotlines and characterization that will sate even the most ardent detractor. Aside from the threat of interstellar war, there is a tale of estrangement between father and son; a conspiracy to ensure peace; a young intelligence officer coming to terms with his career; the changing face of Klingon politics; a love story separated by light years; a flag officer willing to start war for the sake of patriotism. This is a character-driven novel, with the plot serving as a backdrop for the continued development of faces old and new.

And it is that "new" that may present one of the biggest potential turn-offs for a casual reader; there are few major television players present in the novel. But this is indeed a blessing, as Harriman and Sulu (first seen in "Generations") come to the fore, and it's great to see how far they've come since their last literary appearance. Plus, there are cameos by several important "televised" players, which is a nice touch and serves to expand on some long-established mythos.

The tone can best be summed in the words of Romulan Ambassador Gell Kamemor: "The lie...is believing in something contrary to all evidence." The plot is cloak-and-dagger, the action is intense, and the character building is superb, showcasing David R. George III's outstanding craft. Serpents Among the Ruins is classic Trek and modern literature, full of nail-biting suspense and heartfelt moments. The sort of story that one will most definitely want to come back to, if only for the history lesson.

List Price: $6.99
Amazon Price: $13.16

List Price: $6.99
Amazon Price: $46.12

List Price: $7.99
Amazon Price: $8.99