The Nameless Day, by Sara Douglas
Book Review by Steven Sawicki
This is the first book in Douglas' new Crucible Series. It takes place in the Medieval Europe of some alternate universe although readers familiar with history will recognize many of the events and characters. Of course no can be really sure that 14th century Europe wasn't plagued by demons and angels. The story revolves around Thomas Neville, a friar who comes to believe he is chosen by the Archangel Michael to do God's work and fight against the demons that threaten to overrun civilization. The problem is that the demons have taken the guise of humans and have become very hard to distinguish from non-demon humans. To add to Thomas' plight, he carries a deep burden of guilt around the death of his wife. Looking for simple absolution, Thomas finds a plot and a conspiracy that has tendrils in every corner.

Douglas does an excellent job of taking history and turning it slightly on its ear by introducing the elements of the fantastic, in this case, demons and angels. She also keeps some doubt as to whether this is a real threat or simply the conjurings of fevered minds. Thomas, himself, is a well developed character and well placed in both history and the novel. To follow the travels of this man turned friar turned man again is exciting and interesting. Douglas does an excellent job of not getting bogged down in providing an overabundance of factual information by giving the reader just what's needed to understand the setting and the politics.

The story has twists and turns and some unusual characters and situations which all add up to make an enriching reading experience. While this is the first book in a series of three, it does not get mired down in all of the detail establishing that so many first series books do. Douglas writes in a sharp and clear fashion with a bit of wit thrown in. She also keeps the pace up which goes a long way to keeping the reader glued to the page. It's hard to ask for more, unless you're asking for the second book in the series.
Click here to buy The Nameless Day, by Sara Douglas on Amazon
The Nameless Day, by Sara Douglas on Amazon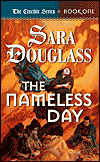 More Books You Might Like
Comment on The Nameless Day, by Sara Douglas
Comments on The Nameless Day, by Sara Douglas
There are no comments on this book.