The Queen Of Swords, by Michael Moorcock
Book Review by Michael D. Griffiths
The Queen of Swords, by Michael Moorcock is the second book in the Corum Eternal Companion series. Moorcock, as always, does a great job being creative and keeping the characters consistent between the novels while also letting them grow and change. There is also a simplicity to his work and I mean that in a good way. His descriptions would make a 19th century Russian writer jealous, but he also keeps things to the point. He does not feel like he had to add things just to add them or stretch out a word count. He has a story to tell and he makes it happen.

In this novel, if anything, things are worse off and more intense then the first book. Here the Mabdan are not just killing off Corum's race, but every decent culture on the planet. A battle is building up, which without help, they will have no chance to win. If the overwhelming odds of against them were not enough, the evil Mabdan are getting aid from Chaos, as well as their own Gods—the Dog and the Bear. As these four armies bear down on the last decent survivors, Corum and his allies are forced to enter the realms of chaos controlled by Xiomborg the Queen of Swords.

Moorcock's understanding and descriptions of chaos are works of art. In case you are not aware. Moorcock designed the modern fantasy concept of chaos that so many have used since. As well as the Chaos Sign, which is used by everyone from artists to punk rockers. (And yep, I have a tattoo of it.)

Of course I will leave you hanging here. I love these books. I love Corum and his allies. I enjoy their enemies and just about everything you will find between the pages of this book.

Downsides... despite what I say above, the only downsides is I wish they could be longer.

If for some reason you have not read the Eternal Companion books, put down what you are reading and start them at once.
Click here to buy The Queen Of Swords, by Michael Moorcock on Amazon
The Queen Of Swords, by Michael Moorcock on Amazon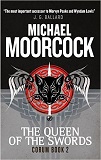 More Books You Might Like
Comment on The Queen Of Swords, by Michael Moorcock
Comments on The Queen Of Swords, by Michael Moorcock
There are no comments on this book.