The Sagittarius Command, by R.M. Meluch
Book Review by Joshua Palmatier
The Sagittarius Command is the third book in the Tour of the Merrimack sci-fi series from R.M. Meluch. This series is much more Star Trek-ish than hardcover sci-fi, but I've enjoyed the books in the series so far.

Premise: In this book, the Roman leader Caesar Magnus is assassinated during an ceremony in honor of the Merrimack's captain Farragut. In order to keep the tenuous peace between the Roman Empire, Farragut must travel deep into Hive territory to not only find out who ordered and orchestrated Magnus' death, but also to find out how the Hive has managed to locate and attack numerous Roman worlds, even though there are ships on watch, waiting for the Hive to approach. And throughout it all, the tensions between Farragut's crew and the Roman allies-once-enemies they are forced to work with continue to rise.

Again, this series is very Star Trek in nature, which is fine by me, since I love Star Trek. It's the reason I keep reading. And this book is much more focused in terms of plot than the last one, with the usual mystery inherent in most Star Trek plots. How is the Hive getting past the ships posted as guards and attacking the Roman planets, leaving some of them destroyed? And then there's the question of who assassinated the Roman Caesar, of course. The characters are their usual colorful selves in this one, with some advancement of some of the interpersonal plots set up in previous books, which is always nice.

Overall, this is a great addition to the series, with a much clearer, sharper plot than the past two books, although that could just be that I've settled into the characters now. (Much like a Star Trek series doesn't get good until the characters settle into their roles.) Definitely a series I'd suggest everyone check out.
Click here to buy The Sagittarius Command, by R.M. Meluch on Amazon
The Sagittarius Command, by R.M. Meluch on Amazon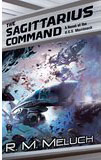 More Books You Might Like
Comment on The Sagittarius Command, by R.M. Meluch
Comments on The Sagittarius Command, by R.M. Meluch
There are no comments on this book.