The Terminal Experiment, by Robert J. Sawyer
Book Review by Paul Weiss
Robert J Sawyer has never been an author to think small and he certainly didn't start in The Terminal Experiment! Soul-searching (literally) provocative discussions on the nature and the very definition of death, immortality, spirituality, morality, love, compassion, hatred, infidelity and more are what elevates Sawyer's novel from the realm of a mere hard sci-fi murder mystery into the class of a Nebula Award winner! He even goes so far as to touch upon the existence of a soul and its effect upon religious beliefs and global events.

Dr Peter Hobson, a successful businessman and bio-technology engineer, has created an EEG orders of magnitude more sensitive than all of the machines currently available. When he uses his scanner to detect an electrical field leaving the body after death, which he calls the "soul wave", he then collaborates with his best friend, an AI specialist, to create three computer simulations of his own brain - one modified to represent the spirit, or life after death; a second, modified to have no concept of death or aging, representing immortality; and the third left untouched as a scientific control. The self-determining simulations escape from the confines of the AI lab's computers into the world wide net and the murders begin. One of them is a murderer but the question, of course, is which one, why and how to stop it?

Sawyer's clever literary device of using snippets from newscasts and magazine or newspaper articles is not only entertaining but it places the issues he has chosen to address in his novel into a global context and hypothesizes on the effects that these types of discoveries would have on a worldwide scale ... at once thought provoking, amusing, sobering and educational!

On a complete aside, I was also grateful to Sawyer for using his story as an example of what Charles Dickens was trying to convey in his famous opening paragraph in "The Tale of Two Cities" - you know the one, "It was the best of times. It was the worst of times ...". Until Sawyer illustrated the idea using his own story, I was always foggy about this ambiguous juxtaposition of complete opposites. But Sawyer switched on the light bulb for me.

Highly recommended!
Click here to buy The Terminal Experiment, by Robert J. Sawyer on Amazon
The Terminal Experiment, by Robert J. Sawyer on Amazon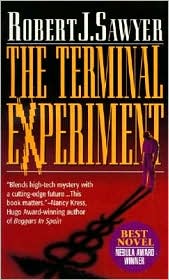 More Books You Might Like
Comment on The Terminal Experiment, by Robert J. Sawyer
Comments on The Terminal Experiment, by Robert J. Sawyer
There are no comments on this book.