The Vanishing Tower, by Michael Moorcock
Book Review by S C Bryce
"The Vanishing Tower" is the fourth in Michael Moorcock's six-book "Elric Saga," a classic of high fantasy, dark fantasy, and sword & sorcery. Like many other of Elric stories, these were originally written as pulp serials. Readers who like tight continuity should be warned that some of these adventures are more closely connected than others.

The first section, "The Torment of the Last Lord," finds Elric and side-kick Moonglum continuing their pursuit of the treacherous sorcerer, Theleb K'aarna of Pan Tang. They must ally with and help Myshella, referenced in "The Weird of the White Wolf" (Book 3 of the "Elric Saga"). Myshella has been forced into an enchanted sleep. Meanwhile, Theleb K'aarna has a new ally of his own.

In "To Snare the Pale Prince", Elric and Moonglum are tricked into traveling to Nadsokor, the city of beggars, by the combined efforts of King Urish and Theleb K'aarna, each of whom wants revenge against Elric for reasons of his own. As with the other Elric stories, "To Snare a Pale Prince" is full of conundrums, capricious gods, bizarre landscapes, unique and memorable villains, believable supporting characters, a complete and philosophical world view, and rushing action.

"Three Heroes with a Single Aim" returns to the theme of the Eternal Champion. Restless, Elric strikes out into the Sighing Desert hoping to die in peace. Instead, he learns that his arch-enemy Theleb K'aarna has gained a device that he hopes can destroy the utopia Tanelorn. Elric again teams with fellow incarnations of the Eternal Champion, Corum and Erekose. In this tale, the legends of Tanelorn and the Eternal Champion are flushed out, and there is new insight into Elric's relationship with the ever-present Moonglum. Elric is at his most loyal in the presence of such camaraderie, although his melancholia is always just around the corner.

Critics of Elric will find all the usual faults: Moorcock glosses over some of the more interesting features of his world, Elric too often relies on others to extricate him from danger, and the multiverse theory leads to unnecessary complications. More, with this volume, the reader will start to notice repetitiveness in both plots and devices, as well as unevenness in Moorcock's detail. Still, for its importance in the genre and sheer creativity, I rate it an 8 out of 10.
Click here to buy The Vanishing Tower, by Michael Moorcock on Amazon
The Vanishing Tower, by Michael Moorcock on Amazon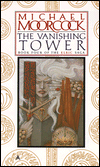 More Books You Might Like
Comment on The Vanishing Tower, by Michael Moorcock
Comments on The Vanishing Tower, by Michael Moorcock
There are no comments on this book.