Two Ravens One Crow, by Kevin Hearne
Book Review by Joshua Palmatier
This is a novella that is set between the fourth and fifth books of Kevin Hearne's Iron Druid Chronicles. There's significant time jump between these two books, so it was nice to see that something of significance was going on during these years, besides the training of Granuaile in druidish lore.

The premise is that Atticus is visited by the Morrigan and told that he must abandon his training of Granuaile and come with her. There are some important people he needs to meet. She won't tell him much more than that. But when he discovers that he's to meet with Odin, who is supposed to think he's dead and has every reason to kill him in cold blood after his actions in Odin's realm, he realizes that the meeting isn't going to end well. And it doesn't. But not in the way Atticus expected.

This was a nice addition to the main series, exposing more about the Morrigan and also developing a significant portion of the plot of the series. It should really be read between the fourth and fifth books. I read it after the sixth, mostly because it was only available before then as an ebook and I don't do ebooks. Not having read it didn't really interrupt the rest of the series . . . but this novella did explain some of the changes in the characters that appeared from one book to the next. The best part about this novella was the development of the relationship between Atticus and the Morrigan, but the confrontation between Odin and Atticus was the central focus and it was also good reading.

So, a good and almost essential bridge between the fourth and fifth books in the series, and a good solid read in and of itself. There's another novella out there now, again only in ebook right now. I'd suggest reading that one in the proper order as well (although I'll probably have to wait until it comes out at the end of one of the later books in the series, as I did for this one).
Click here to buy Two Ravens One Crow, by Kevin Hearne on Amazon
Two Ravens One Crow, by Kevin Hearne on Amazon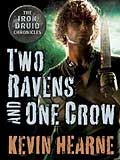 More Books You Might Like
Comment on Two Ravens One Crow, by Kevin Hearne
Comments on Two Ravens One Crow, by Kevin Hearne
There are no comments on this book.