Unholy Birth, by Andrew Neiderman
Book Review by Benjamin Boulden
Kate Dobson is in a happy and fulfilling relationship, and partners in a successful catering business. Her life is going along smoothly when she decides she wants a baby. Her partner—Willy—is less than excited, but she is willing to go along with Kate. The two decide on a modern and progressive vitro fertilization clinic called Genitor. It doesn't take long before Kate begins to show symptoms of pregnancy, and the foundation of her world is quickly and irretrievably knocked off-kilter.

Kate begins to have terrible nightmares. She exhibits pregnancy symptoms that she shouldn't have—her doctor claims she isn't pregnant—and to make matters worse no one, including her partner Willy, believes she's pregnant. Then the harassment begins—threatening letters, photographs of devil-like fetuses, and even the disappearance of her bodyguard.

Unholy Birth is the definition of a quiet horror novel—there is no violence, gore, or even outright terror. Instead Andrew Neiderman builds a strong and compelling story with quiet and effective plotting that includes a few suspenseful moments and more than a little mystery. The events surrounding Kate and her pregnancy are not revealed until the end, and I did''t guess the climax more than a few pages before it was revealed. The characters are likable and well developed, especially Kate.

Unholy Birth is a fast and entertaining novel. If you enjoy mild horror, a little suspense, some mystery with a little mysticism thrown into the mix, Unholy Birth will keep you entertained to the last page.
Click here to buy Unholy Birth, by Andrew Neiderman on Amazon
Unholy Birth, by Andrew Neiderman on Amazon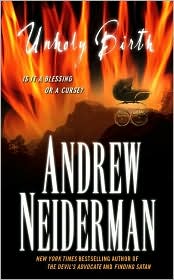 More Books You Might Like
Comment on Unholy Birth, by Andrew Neiderman
Comments on Unholy Birth, by Andrew Neiderman
There are no comments on this book.