As I said above, the books in this series have been getting much better in terms of quality and tightness of plot and this book was no exception.  I think my favorite is still the second book
Dopplegangster
, but this one comes in an extremely close second.  The plot was extremely well done, in particular, with the events of the story happening over the course of a few days and nearly all of it happening at or near the theater where the play was running.  The writing was fluid and moved at a brisk pace, making the reading easy and enjoyable, and the humor was sly and perfect, making me quirk a grin in numerous places.
But I think the best thing about the book was the characters, as usual, and in particular how the relationship between Esther and ex-almost-boyfriend cop Connor Lopez played out.  This all happened over the course of a few days, so there couldn't be major changes over that time, but the relationship was still there and played up well considering what happened in the previous book.  It didn't shift that far away from where we left it at the end of the previous book, but I also don't think it could have shifted any further without breaking credibility.  Connor aside, all of the other characters were fun and interesting, and I like that Max didn't play as huge a role as he has in previous books, in terms of resolving the plot, although we do get a significant glimpse of Max's past, which was interesting.  In fact, a few of Max's quirked are finally explained in this novel.
Overall, what I'm saying is that this book had a perfect balance of plot, pacing, setting, and character.  I think the only reason I liked
Dopplegangster
more was because the concept was fresher.  This book dealt with vampires, which feel like they've been done to death at this point, but Laura Resnick does her own spin on these particular undead creatures that I found interesting, more realistic, and far fresher than any recent urban fantasy vampire I've read.
If you've never read anything in this series, pick up one of the books.  It doesn't have to be read in sequence, but I think once you've read one, you'll want to read them all.
www.joshuapalmatier.com
Click here to buy Vamparazzi, by Laura Resnick on Amazon
Vamparazzi, by Laura Resnick on Amazon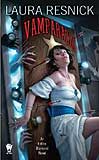 More Books You Might Like
Comment on Vamparazzi, by Laura Resnick
Comments on Vamparazzi, by Laura Resnick
There are no comments on this book.
---