White Trash Zombie Apocalypse, by Diana Rowland
Book Review by Joshua Palmatier
This is the third book in Diana Rowland's White Trash Zombie series, which I've enjoyed since book one. This one wasn't as strong as that first one, but it was still a solid and entertaining book. The quality of the series certainly hasn't gone down as the books progress, and I hope there are more to come in the series.

The premise of this book is that a movie company is filming a zombie apocalypse movie in Angel Crawford's town, and Angel and the rest of the real zombies are having a blast watching the fake zombies and crew. Of course, someone from the set dies and Angel starts getting signs that something more sinister is going on, especially when she runs into her old "friend" Philip, the zombie baby she was forced to create when kidnapped in the second book. She finds herself embroiled in industrial espionage and drawn deeper into her boyfriend's zombie "mafia," even as the movie set threatens to become the start of an actual zombie apocalypse.

The best parts of the book are, of course, Angel, who's character continues to evolve, and her struggles as she becomes more involved with the local zombie mafia. Her personal struggles with her boyfriend and father are also prevalent, all in very positive ways. Again, the main reason to read these books isn't because of the zombies, it's the characters, Angel in particular. The plot is also stronger--more fleshed out and streamlined--than in the previous book. I liked the progression of how Angel gets drawn into the industrial espionage and the local mafia. She isn't automatically part of the group. And she has qualms about some of the things the group does. It isn't a black-and-white division of good and evil, and Angel struggles with some of the darker sides of the corporation and its actions. All of this is good reading.

I was disappointed with the actual use of the zombie movie set. I was expecting this to be used more effectively. Essentially, without spoiling anything, I figured out what was happening with the movie set way early on, and even knew what the culmination of this aspect of the plot would be. However, when that moment came about, it didn't have the power or impact that I thought it should have. This was the only weak point of the book, and the only reason I didn't give it a full 5 stars.

There was another part that was extremely powerful however. Emotionally for both Angel and the reader, and also extremely dynamic in terms of character development for Angel and her father. I can't really say anything more about it thought without spoiling it. But you'll know it when you read it. And you should definitely be reading this series, if you aren't already.

So, overall a great book. Definitely worth reading. And as I said, I hope there are more in this series to come.

Click here to buy White Trash Zombie Apocalypse, by Diana Rowland on Amazon
White Trash Zombie Apocalypse, by Diana Rowland on Amazon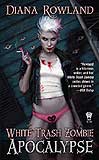 More Books You Might Like
Comment on White Trash Zombie Apocalypse, by Diana Rowland
Comments on White Trash Zombie Apocalypse, by Diana Rowland
There are no comments on this book.