X & Y and Other Like Stories, by Heidi Cyr
Book Review by David A. Olson
It's rare to see collections of stories by a single author. After reading X and Y and Other Like Stories, I'm not sure why. These are high quality stories that are only a hair shy of being classics. The stories are strongest when Mrs. Cyr uses her gift for language to give them a unique voice. The settings and ideas are also strange enough to be worth noting, as are the twisted conclusions to these literary science fiction tales. All of the stories are exactly the right length, never falling short of the end nor going on too long. The only thing I miss in this collection is that there is no information about the author to be found.

The story descriptions below will give you a feel for what you'll find.

You Can Buy the Girl - Two men don't want to be hit on by hookers so one dresses up as a woman. An odd beginning to a story with a disturbing ending.

Little Blue Lovely - An alien from another universe visits earth and finds someone horrifying. Like You Can Buy the Girl, this story has a disturbing ending. However, the language in this story is more poetic, and I thought it worked better as a story.

Mr. Heisenberg's Principles - A scientist invents a machine that lets a person view the past. However, the observer affects the past as well which lead to interesting results.

Davey Machine - A man buys a robot, but it isn't made to give him what he wants.

No Fear of the Sun - It's 166 degrees Fahrenheit in San Francisco, and the heat and chemicals are destroying a woman's looks. She's afraid she'll lose her man, but how can she stop it from happening?

Peter Prosser - A psychiatrist talks to a woman about a man she loved. He was a master of self-deception. But what about her?

And Gaby - A brief follow-up to 'Peter Prosser.'

Blind Man in a Cup - A bar that makes special order drinks. Drinks you can't get anywhere else...

Cell F is the World - Alone in a prison cell. What thoughts would enter a man's mind?

The Man Outside - A man and woman go to visit a cabin in the woods only to discover something unusual in the woods.

Not to Come to Not - The whole world is at war, except for one man and one woman who are hiding. Then someone appears to disturb their peace.

The Lost and Found - A young boy is abandoned in the woods, and the trees take him as one of their own. But can he find happiness there?

In a Fit of Pique - A creature ends up stranded on an alien planet, alone, wit no hope of rescue. What strange thoughts enter his mind?

X and Y - A person is born who is genetically a man with a gene defect that made her grow into a woman. She is cloned, and the gene defect is repaired, producing a male child. What will happen when they meet?

Jesus Savant - A man who has trouble thinking is discussed in front of him. Other than that, I didn't understand this story very well, because it is told from the point of view of the man with trouble thinking. The meaning eluded me, but a more industrious reader will doubtlessly enjoy this story more.
Click here to buy X & Y and Other Like Stories, by Heidi Cyr on Amazon
X & Y and Other Like Stories, by Heidi Cyr on Amazon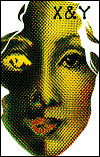 More Books You Might Like
Comment on X & Y and Other Like Stories, by Heidi Cyr
Comments on X & Y and Other Like Stories, by Heidi Cyr
There are no comments on this book.