Year's Best Fantasy 2, edited by David G. Hartwell, Kathryn Kramer
Book Review by David Roy
I picked it up the first Year's Best Fantasy anthology on a whim, and loved it to pieces. I made a point to keep an eye out for the second volume, and scooped it up as soon as I got a chance. This collection is just as good as the first, and well worth a look-see from the choosy fantasy reader.

This book contains all sorts of fantasy types. There are urban fantasies that take place in the modern day with fantastical elements, fantasies that have traditional wizard type characters, religious fantasy, and many more. It's all here in this one volume. All of the stories (bar two) are at the very least interesting. The overall quality of this book is excellent, however, with most of the stories (with the exception of the Ursula Le Guin story at the beginning) being short enough for you to read right before bed. I'll include a list of the stories and authors at the end for those who want to see if their favourite author is included, but I wish to talk about a few of the more noticeable ones in this review.

The best story in this book is the first one, "The Finder" by Ursula Le Guin. It's reprinted from her "Tales From Earthsea" collection of stories. After reading it, I had the urge to go out and read the rest of the Earthsea books, as it was that good. It's the story of Otter, a young son of a shipbuilder. The story takes place in the distant past in relation to the other Earthsea books, in a time when magic was looked down upon and feared. Otter has some magic power, especially the ability to "find" things by thinking about them. He is captured by the "king" of the area and given to the king's wizard in order to be made useful. The story becomes one of Otter's attempts to escape, how Otter learns to use his powers, and how he becomes a part of Earthsea history as well. The story is at times poignant, and at other times just plain fascinating. Le Guin has such a wonderful sense of character and setting that she literally draws you a picture. Otter is well-portrayed, going from young innocent boy to a responsible young man and teacher in the space of the story. The other characters are also interesting, including a truly evil antagonist who is still well-rounded, even though the reader hates him. He's not a cartoon character, which is very nice. This is the longest story in the book, at 95 pages, and it's worth every one of them.

Then there is "Apologue," a 2-page story by James Morrow, where three former big-city nemeses (a giant ape, a giant lizard, and a giant rhedosaur) return to New York to help out in the aftermath of the September 11th attacks. I couldn't believe that this much feeling could be contained in a 2-page story, but Morrow does it. It is a truly touching tale of formerly destructive beings doing what they can to help. It really is a moving experience to read this one. If you simply do not want to buy this book, then you should quickly read this story in the bookstore. It almost brought a tear to my eye.

Other particularly strong stories are "In the Shadow of Her Wings" by Ashok Banker (a story of political assassination and reincarnation in near-future India), "The Black Heart" by Patrick O'Leary (a story of good and evil at an airport, which takes a surprising turn at the end), and "To Others We Know Not Of," by Kate Riedel (a story of a married woman and a man from her past, returned to seek her help and explain why he left so long ago). These are the particularly noteworthy ones, though the rest of the stories are good as well (with the two exceptions below).

The two exceptions, for me anyway, were "Hell is the Absence of God," by Ted Chiang, and "Stitchery," by Devon Monk. Chiang's story takes place in a world where Heaven and Hell are real places, God is a real being with an intrusive agenda that has nothing to do with love, and angelic visitations are relatively common occurrences. These visitations don't always have good results, as sometimes they happen with so much force as to cause wholesale destruction, injuring and even killing people. Neil Fisk's wife is one of these casualties, and thus Neil completely loses his faith in God. This is the story of his attempt to be with her in the afterlife, because he knows that she's in heaven (when you die, your spirit visibly moves to one area or the other). He has to have true faith, or he won't be able to join her, but he can't get over his anger. The concept is intriguing, but the story never really holds together for me, and none of the characters are particularly likable or interesting. "Stitchery" is just a rather dull story of a southern woman who can "stitch" people back together again once they have died, her two-headed lover, and a "granny" that she bought who knits wasted time together into a tapestry. Again, some of the concepts are intriguing but the story itself isn't very interesting.

Overall, though, I would certainly recommend getting this book. It has a great mix of stories, mostly well-told (and really, you should expect a clunker or two in any collection) with a nice mix of "name" authors and new people. If you like fantasy, you will find something to like in this book.
Click here to buy Year's Best Fantasy 2, edited by David G. Hartwell, Kathryn Kramer on Amazon
Year's Best Fantasy 2, edited by David G. Hartwell, Kathryn Kramer on Amazon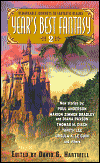 More Books You Might Like
Comment on Year's Best Fantasy 2, edited by David G. Hartwell, Kathryn Kramer
Comments on Year's Best Fantasy 2, edited by David G. Hartwell, Kathryn Kramer
There are no comments on this book.