Year's Best Fantasy 4, edited by David G. Hartwell, Kathryn Kramer
Book Review by David Roy
Having recently finished David G. Hartwell and Kathryn Cramer's "Year's Best SF 9" because of Kage Baker's story, imagine my horror when I discovered that, for the first time since Book 1 of their Year's Best Fantasy series, there would not be a Baker story in this year's edition. I decided to soldier on, however, as the other stories have always been exceptional. I would just have to read a book that did not contain a Baker story. *shudder*

Now, all kidding aside (I love Baker, but I'm definitely exaggerating above), the stories in Year's Best Fantasy 4 did not grip me like they have in past years. In fact, going back and writing out the story titles and authors for the list below, I'm having trouble remembering what a few of them are about. Some are charming in their own way, but didn't excite me. Others left me with disturbing images (and not the pleasurably disturbing ones that good horror novels leave). "Catskin," by Kelly Link, is about a witch's son and the cat that has become the dead witch's revenge. The cat creates a cat suit for the boy out of the skin of all the other dead cats that the witch had taken care of, and they go out to avenge the witch, dealing with the other witch who poisoned her. Not my cup of tea. Even the mostly reliable Michael Swanwick's story isn't up to his usual standard, though it is mildly entertaining. "King Dragon" is about a world of elves and dragons, but this world is brutally technological. The dragons are intelligent, but they are also mechanical constructs. In an attack on a village, one of the dragons crash-lands, demands that the village cater to him in order to eventually fix him, and takes a boy to be his eyes, ears, and feet. The boy becomes very powerful in the village, a resistance group forms and the boy has to eventually decide whether he likes the power he has (despite the horror of his master) or if he is loyal to his village. It's an interesting story, but I found I didn't really like the atmosphere that much.

So what's good about Year's Best Fantasy 4? There are three really good ones. "Basement Magic," by Ellen Klages, is about a young girl with a horrible stepmother, and a maid who knows just a little bit of that voodoo that you do so well. She quickly befriends the girl and, after seeing how the stepmother treats the girl, decides to help protect the girl with a couple of spells. The girl takes things just a little too far, however. This tale was very sweet, but not too sweet. The characters are interesting and I just loved the friendship that grew between these two people. The ending is actually quite surprising, and sad in a way. I loved it.

Another good one is "Dragon's Gate," by Pat Murphy. In this one, a girl tells a story of the ice women in a bar near the glacier. They are upset and her mother goes into a coma-like state. The girl must travel up the mountain pass and get some blood from the dragon there, the dragon that has killed every expedition that has gone after it. Upon getting there, the girl finds things a lot different then she expected. The story has a nice twist to it, with the dragon being a credible character in its own right. The little bit of history of the area is interesting, also tying directly into the outcome of the story, which is nice too. Excellent stuff.

Finally (both in this review and the book itself), there is "Almost Home," by Terry Bisson. This story is a voyage of discovery and the beginning of a new life. Troy and Bug are two boys who enjoy fishing in "Scum Lake," a big pond that's out by the old horse track. Troy discovers that various aspects of the track (the announcers' booth and other bits) are beginning to form what looks like an aeroplane (you know, one of those older types). When it finally forms, they are able to take Troy's deformed cousin for a ride. They discover, past the seemingly endless desert, a community that is almost, but not quite, exactly like theirs. The story only contains these three characters, and Bisson captures the wonder and the fear of kids going on an exploration of the unknown vividly. It's kind of sad, but contains an uplifting ending. It's also quite imaginative, with this plane being powered by electrolytes from soda pop. This was an excellent ending for the book.

Very few of the stories in Year's Best Fantasy 4 left me cold. There's "Catskin" as mentioned above, but also Neil Gaiman's story ("Closing Time") also did. Perhaps this is because I'm getting tired of the motif of people within the story telling a weird story themselves. It's starting to get a bit old, and since the story that was being told didn't inspire me, it just sort of fell flat. Others were ok, but nothing special. Surprisingly, Tanith Lee's story ("Moonblind") was one that I actually enjoyed, which just may indicate that my feelings about a Year's Best Fantasy book may be inversely proportional to how much I like Lee's story. The past two books have contained Lee stories that I didn't like, and I liked those volumes a lot better than this one.

Still, my disappointment with this year's edition does not mean it's not worth picking up. It's still a great collection, just not as good as past years'. If you're a short fantasy fan (as in a fan of short fantasy, not meaning a height-challenged fan), I would definitely recommend that you pick this book up. Just make sure you pick up the first three as well. There's some good stuff there.
Click here to buy Year's Best Fantasy 4, edited by David G. Hartwell, Kathryn Kramer on Amazon
Year's Best Fantasy 4, edited by David G. Hartwell, Kathryn Kramer on Amazon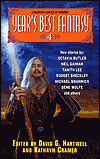 More Books You Might Like
Comment on Year's Best Fantasy 4, edited by David G. Hartwell, Kathryn Kramer
Comments on Year's Best Fantasy 4, edited by David G. Hartwell, Kathryn Kramer
There are no comments on this book.